Spray Tanning: Your Quickest Way To Income In Beauty!
If you're looking to get into the beauty industry as a side hustle or to replace your current job, spray tanning is by far the quickest and easiest way to get started.
Our professional Spray Tanning Certificate Course covers everything you need to know to provide a full range of spray tanning services. First, you will learn the fundamentals, such as safety and hygiene, and all the necessary theory to safely offer tanning services. Thenm you will learn all about your products and equipment, learning how to set everything up and maintain your equipment. Finally, you'll master the techniques required to deliver professional spray tan services that your clients will love.
We also provide a professional spray tanning product and equipment kit, complete with everything you need to run your spray tanning business from home, as a mobile service, or in a salon. This includes all the essential equipment, such as spray guns and tanning tents, as well as products like tanning solution, hygiene products and more.
Plus, we will guide you through setting up your business from start to finish, and teach you how to attract clients and keep them coming back for more services, helping you build your income.
To learn more, fill in the form above to receive full details about our course, including pricing and payment plan information.
We also offer a 30-day money-back guarantee. If you're not satisfied with our course, just contact us for a full refund.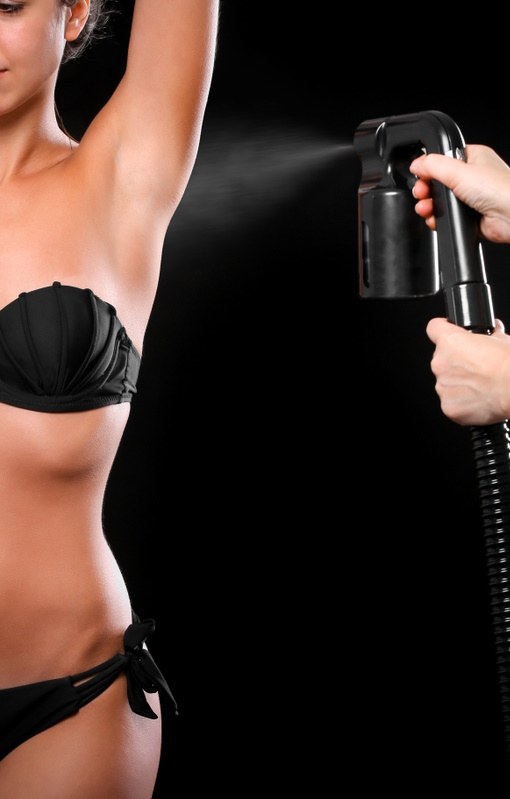 Spray Tanning Training Consultation?
Let us show you how this course can work for you!
Our Consultants are waiting to take your call and answer any questions you may have. Book a 15 minute Course Consultation – you will get the answers you need to help you decide if this is the career for you.
We'll cover everything including: course content, course pricing and payment plan information, career opportunities and most importantly, how this course can work for you!.
Just complete this form, choose a time on the next step and we'll be in touch!.
Spray Tanning Career Opportunities:
You may already know what you're going to do once you have gained your new Hairdressing Skills or you may be considering your options. Either way, here are a few ideas to get thinking about your new future.
All you need are the skills we provide in this course to do any of the following and more!
Work from Home
More and more people are now looking for the flexibility and freedom of working from home. Setting up and running your own home spray tanning business can be the perfect way to earn a great income while working your own hours.
Go Mobile
Spray Tanning is a service that is ideal for a mobile operator. The products and equipment (including the tanning tent) can be packed up and taken with you easily. Going mobile provides freedom and saves on overheads.
Start a Tanning Salon
If you're up for an adventure, then starting your own stand alone Tanning Salon may be for you. There are more upfront costs and commitments, but the rewards can be enormous. Your first step is gaining the right skills!
Rent a Room
A popular option that gives you the presence of a salon, without the setup cost. Many hair and beauty salons have spare space and will rent out that space to help diversify their existing services. You can leverage their clients and be up and running in no time!

The Best Course Product Kit In The Industry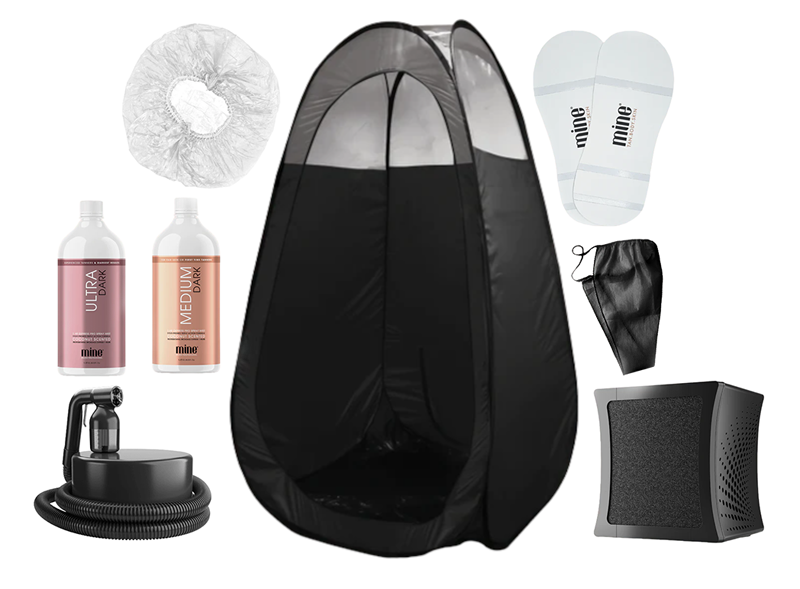 Get everything you need to learn spray tanning and enough product to continue operating your business once you have completed your course.
Tan.lite 32000 Spray Tan Machine
Tan.wave Portable Clear Air Extraction Fan
Tan Tent (pop up) Black, clear top
2 x 1 Litre Mine Pro Tan Solution -Medium Dark and Ultra Dark
25 Pairs Sticky Soles
10 x disposable G Strings
10 x disposable Plastic Shower Caps
Testimonials:
Here's what some of our students have to say about our courses:
Angela Veljanovski
Want to congratulate Karen and all at beautycourseonline on this awesome course. Very well organized and so easy to follow. I would highly recommend to anyone starting in the beauty industry.
As I have my own salon, wanted to give my clients every service possible and making it a one stop shop. Have bookings well into the new year😁.
Thanks to Karen and this course I can now follow my dream!
Sue Cohen
I ordered my Lash Lift course 12 months ago but due to life circumstances, I only started it 4 weeks ago. Once I started, I wished I had commenced it long before as it was such a simple and well structured process. The course outline was very easy to follow and I loved the feedback and critique from Karen and the team on the work I produced. It was a brilliant learning experience so thank you to everyone at Beauty Courses Online. I now have new treatments to add onto my Services Menu.
Pam Kuhn
Beauty Courses Online were amazing to deal with from start to finish…. And even now, 6 months after completion.
I have completed the Nail Technician course.
Information was current and the videos were so good.
Video feedback on my work was amazing. Showed you exactly what you did well, and suggestions of what and where to improve.
Happy to do more courses with them 🙂
Vee Louise
I have completed both the Full Body Waxing & Relaxation Massage course. Both courses were amazing – so thorough and informative. The training manuals were very easy to navigate and the videos were that little extra bonus. I found all the staff to be so lovely and helpful. To know Karen is a trainer who actually responds promptly was incredible in itself. Thank you so much to all the staff at Beauty Courses Online! I will definitely be back for more! I am now in the process of building my own shop & opening a Massage & Beauty business in town. I have received so much positive feedback!