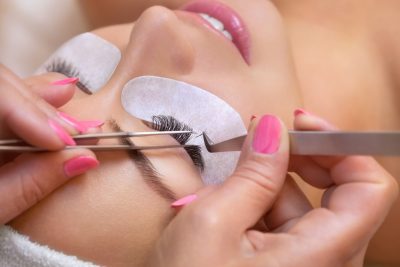 Lash Technician Certificate
Do you need a certificate to do lash extensions?
You might be wondering if you really do. There are many benefits of earning yourself one, and it's not just about having the advantage over other professionals who don't have certifications.
What really matters is the improvement in the way you work. Mastering the latest and more advanced techniques makes it more advantageous for you on the market.
You'll increase your earnings, add more skills, gain more clients and even earn trust from business owners quickly.
Sounds really interesting, right? Let's talk more about lash extension certification below!
What Is Lash Technician Certification?
A certificate for lash extensions (or lash technician) is a qualification that serves as proof of your acquired professional skills in beauty. It tells your clients and even business owners that you have the ability to provide lash extension services.
You'll get this certificate once you complete an eyelash extension course.
How Do You Get a Lash Tech Certificate?
Getting a lash technician certificate only requires a simple process:
Know the local regulations in your place about becoming a lash technician.
Enroll in a beauty school or an accredited private course.
Complete your training to get your certificate.
Make sure to do your own research as well for the courses to get the best fit.
Is Lash Lift Certification the Same as Lash Extension Certification?
No, it's not. Lash extensions and lash lift are two separate courses because they are different beauty services. You can either get a lash extension course or a lash lift course.
But if you want to be a lash specialist, consider taking the two courses. You'll also have the opportunity to earn more with more services you provide.
Do You Need a Certificate to Do Lash Extensions?
Technically, this depends on where you are. Your local regulations determine if you need lash tech certification or not to practice lash extensions.
Many countries don't have regulations for this service. But if you live in a place with strict requirements, you'll need a certificate for this profession (and even a license!). So, make sure to check with your local regulations in becoming a lash technician.
How Can Our Lash Tech Certificates Help You?
There are a lot of ways our lash tech certification can help, but let's highlight the major ones.
With our certificate, you can quickly start your career and earn a huge income from it. As early as 6-8 weeks, you'll be able to master the professional skills and techniques required for the profession.
You can work in a salon, start your home salon or mobile service business or become an instructor or consultant. All of these job opportunities may require some form of certification or accreditation.
Also, having a certificate increases your credibility as a professional. Clients and business owners can quickly trust or have confidence in your abilities in providing quality lash extension services.
If your place requires a license to practice lash extensions, your certificate is a prerequisite. Many licensing agencies require professional training before you can take the licensure examination.
What Do You Learn from Our Lash Technician Certification Course?
Our lash extension course has two separate programs: the Classic Eyelash Extensions and the Advanced Volume Eyelash Extensions. To start, you need to take the Classic Eyelash Extensions as it contains the basics about the industry.
You can proceed with Advanced Volume Eyelash Extensions after getting a certificate for the Classic Eyelash Extensions.
Both courses have similar structures because you'll learn lash and volume application, refill and removal, design and sizing, products and equipment and many more!
Lash Technician Certification Requirements
The requirements for lash technician certification differ by location. With us, we make your life a lot easier. We don't have any academic qualifications, but you need to be at least 18 years old.
If you're below this minimum age requirement, you need to have a parent's consent. Also, it's important to have easy access to a computer and the Internet as our course is online.
How Can You Use Your Qualification to Start a Career?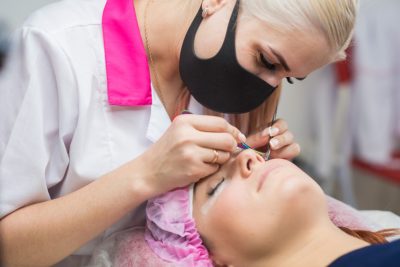 With a lash extension certificate, you're at an advantage when you apply for a job. Many business owners prioritise applicants with a qualification. Getting your dream job can be quickly attainable!
If you want to start a home salon or provide mobile services, a certificate can help build a customer base faster than without one. Your neighbors will be your first clients for these business models for sure.
Not only that, you can use the certificate to upskill into more advanced courses. You'll be able to provide more services and earn more income!
What's even better about having a certificate is you can have higher rates than those who don't have any. Whatever work environment you want to be in, a certificate will always give you an advantage.
What Other Students Thought of Our Courses
If you're still undecided whether to take our course, allow us to tell you what our students say about our training.
Jolene Bothma didn't feel pressured to take our course at all because she was able to learn at her own time and pace. Not to mention the quick email responses she got for her questions!
"I really enjoyed doing the course online."
For Sue, she was more on the business side of things and in the process of building her own mobile beauty salon after taking our course.
"Thanks for everything… the course is excellent and I am using the Ebooks for suggestions on business ideas."
Laura O'Neil had good news! She got hired in a nice salon in her place after completing our course.
"Greatly appreciate the lovely training."
Earn a Certificate for Lash Extensions with Us!
Do you need a certificate to do lash extensions? Of course, you do, regardless of whether you have regulations about the profession or not!
You'll enjoy the benefits of having one and always be confident with your skills. So, start your lash extension career with us now, and achieve success in no time!
---
References:
https://www.indeed.com/career-advice/career-development/how-to-get-eyelash-certification
https://www.thelashprofessional.com/get-educated/certified-lash-technician/#:~:text=A%20certified%20lash%20technician%20is,a%20business%20doing%20lash%20extensions.
https://www.thelashprofessional.com/business/do-you-have-to-have-a-license-to-do-eyelash-extensions/#:~:text=Become%20a%20Lash%20Professional,lashes%20to%20anyone%20with%20confidence.
https://www.linkedin.com/pulse/how-professional-certificates-can-help-jump-start-medina-orellana