Get Certified in Eyelash Extensions and Grow Your Income!
Launch your own exciting lash business in as little as 4 weeks. Our Online Eyelash Extension courses give you the skills to provide your clients the complete range of lash extensions – from classic natural lashes, right through to russian volume eyelash extensions.
We cover everything you need to know from the fundamentals like safety, hygiene, and all required theory to enable you to work safely.
Then onto the practical eyelash extension skills!. Most of the work you do in our course is practical to ensure you have the skills to deliver high class eyelash extension services to your clients.
You start with the basic building blocks of the services and then move on to completing full sets of lashes on models. You will continue to do sets of lashes with the guidance of our professional lash trainers helping you to hone your skills until you are ready!
Our Professional Eyelash Extensions Product Kit comes with all the products and equipment you need to do the course and to continue providing services to clients once the course is complete.
We can even show you how to set up your business and get new clients!
Get an easy payment plan sent to your email instantly by completing the form on this page.
Plus, we have a 30 Day Money Back Guarantee – if you're not happy for any reason whatsoever, just let us know and we will refund your money in full!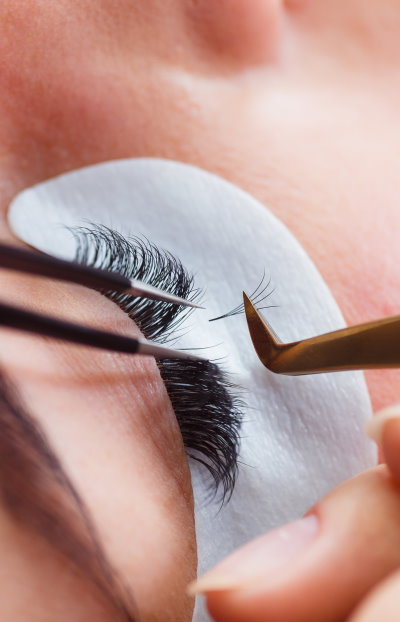 Eyelash Extensions Training Consultation
Let us show you how this course can work for you!
Our Consultants are waiting to take your call and answer any questions you may have. Book a 15 minute Course Consultation – you will get the answers you need to help you decide if this is the career for you.
We'll cover everything including: course content, course pricing and payment plan information, career opportunities and most importantly, how this course can work for you!.
Just complete this form, choose a time on the next step and we'll be in touch!.
Eyelash Extension Certificate Course Breakdown
Below are the modules for both the Classic Eyelash Extensions Course and the Advanced Volume Eyelash Extensions Course. These provide all of the skills you need to provide professional lash extensions services, plus we can provide all of the products and equipment you need to get going. Pricing and packages will be sent to you instantly with the brochure above.
Advanced Volume Lash Extensions
Advanced Volume Lash Extensions
Lash Technician Career Opportunities:
You may already know what you're going to do once you have gained your new Eyelash Extension Skills or you may be considering your options. Either way, here are a few ideas to get thinking about your new future.
All you need are the skills we provide in this course to do any of the following and more!
Work from Home
More and more people like you are now looking for the flexibility and freedom of working from home. Setting up and running your own home lash business can be the perfect way to earn a great income while working your own hours.
Go Mobile
Lash Extensions are a great service that you can take mobile. The products and equipment can be packed up into a case and taken with you easily – even the lash bed can be portable. Going mobile provides freedom and saves on overheads.
Start a Lash Salon
If you're up for an adventure, then starting your own stand alone Lash Salon may be for you. There are more upfront costs and commitments, but the rewards can be enormous for you and your family. Your first step is gaining the right skills!
Rent a Room
A popular option that gives you the presence of a salon, without the setup cost. Many beauty salons have spare space and will rent out that space to help diversify their existing services. You can leverage their clients and be up and running in no time!

The Best Lash Course Product Kits In The Industry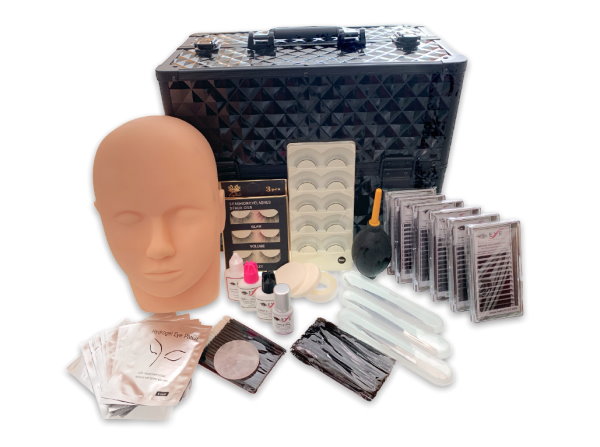 Get everything you need to learn all 3 nail systems and enough product to continue operating your business once you have completed your course.
Classic Eyelash Extensions Kit
1x Makeup Cosmetic Case (Colour will be either black or pink depending on the supply we can get at the time)
1x Practice pads (2pcs)
1x Mannequin Training Head Make-Up Cosmetology Practice Eyelash Extensions
1x 5 pair pack Training lashes (1Pack)
1x Glue ring (10pcs)
1x Pink Jade glue stone (1pcs)
2x Medical tape (1pcs)
2x Hydrogel Eye Pads (20pcs)
1x Eyelash Dry Air Blower
1x Disposable Mascara Brush (50pcs)
1x Disposable Lip Brush Lip Wands Gloss Lipstick (50Pcs)
1x Tweezers Eyelash Extensions (Straight)
1x Tweezers Eyelash Extensions (Angled)
1x Tweezers Eyelash Extensions (Curved)
LASH EXTENSIONS – Mink
1x Premium Mink B Curl 0.12 Mix 8-15mm
1x Premium Mink B Curl 0.15 Mix 8-15mm
1x Premium Mink B Curl 0.18 Mix (8-15mm
1x Premium Mink C curl 0.12 Mix 8-15mm
1x Premium Mink C curl 0.15 Mix 8-15mm
1x Premium Mink C Curl 0.18 Mix 8-15mm
SOLUTIONS
1x Pro Bond Glue 5ml ( for eyelashes)1pcs
2x Cleanser 15ml (Eyelashes)
2x Primer 15ml (Eyelashes)
1x Gel Glue Remover 15ml (for eyelash extensions)
Advanced Volume Eyelash Extensions Kit
2x Practice pads (2pcs)
2xPremium Mink D Curl 0.07 Mix 8-15mm
2x Premium Easy Fan C Curl 0.07 Mix
1x Pro Bond Glue 5ml ( for eyelashes)1pcs
1x Eyelash Dry Air Blower
1x Professional Tweezer For Volume Straight (Gold )
1x Professional Tweezer For Volume Angled (Gold)
1x Professional Tweezer For Volume Curved Pointed (Gold)
1x 5 pair pack Training lashes
Frequently Asked Questions:
Testimonials:
Here's what some of our students have to say about our courses:
Angela Veljanovski
Want to congratulate Karen and all at beautycourseonline on this awesome course. Very well organized and so easy to follow. I would highly recommend to anyone starting in the beauty industry.
As I have my own salon, wanted to give my clients every service possible and making it a one stop shop. Have bookings well into the new year😁.
Thanks to Karen and this course I can now follow my dream!
Sue Cohen
I ordered my Lash Lift course 12 months ago but due to life circumstances, I only started it 4 weeks ago. Once I started, I wished I had commenced it long before as it was such a simple and well structured process. The course outline was very easy to follow and I loved the feedback and critique from Karen and the team on the work I produced. It was a brilliant learning experience so thank you to everyone at Beauty Courses Online. I now have new treatments to add onto my Services Menu.
Pam Kuhn
Beauty Courses Online were amazing to deal with from start to finish…. And even now, 6 months after completion.
I have completed the Nail Technician course.
Information was current and the videos were so good.
Video feedback on my work was amazing. Showed you exactly what you did well, and suggestions of what and where to improve.
Happy to do more courses with them 🙂
Vee Louise
I have completed both the Full Body Waxing & Relaxation Massage course. Both courses were amazing – so thorough and informative. The training manuals were very easy to navigate and the videos were that little extra bonus. I found all the staff to be so lovely and helpful. To know Karen is a trainer who actually responds promptly was incredible in itself. Thank you so much to all the staff at Beauty Courses Online! I will definitely be back for more! I am now in the process of building my own shop & opening a Massage & Beauty business in town. I have received so much positive feedback!