The Most Famous Drag Queens
Dressing up in drag is not a new phenomenon. There are examples of men dressing as women dating as far back as the late 16th century, during Shakespearean times, when men would don the appropriate attire to play female roles in the Bard's plays. Coincidentally, this is where experts believe the name drag comes from since the dresses men wore would drag along the floor.
Nowadays, drag queens are celebrated worldwide, and nowhere is this more encouraged than on the TV show RuPaul's Drag Race, where queens compete to determine who is the most glamorous. With Season 14 of RuPaul's Drag Race dropping on January 7th, here's a refresh on the most famous drag queens who have competed on the show to get you all caught up. 
The Most Famous Drag Queens 
RuPaul's Drag Race has spawned many recognisable faces since its first season in 2009, but there are many more famous drag queens out there. Here are just some of the most famous drag queens around the world that you should know. 
Trixie Mattel 
View this post on Instagram
As possibly the most famous queen to sashay away from Drag Race, Trixie Mattel has amassed 2.5 million followers on Instagram since winning RuPaul's All Stars 3 in 2018. Although she lost season 7 of Drag Race in 2015, Trixie was quick to bounce back with a web show entitled 'UNHhhh', which she presented alongside fellow Drag Race contestant Katya. Besides her stints on Drag Race, Trixie has also released three studio albums, her own cosmetics brand, a self-help novel and a documentary called Moving Parts. As of 2021, Trixie Mattel is a member of the judging panel for Queen of the Universe. 
Bianca Del Rio 
View this post on Instagram
As the winner of Season 6 of Drag Race in 2014, Bianca Del Rio remains a firm fan favourite even today. Fans often consider her the best winner in the show's history due to her snarky humour, determination, and talents, which helped her win three maxi challenges on Drag Race. After the show, Bianca began touring in shows and as a solo act, often performing with the famed Lady Bunny. On top of this, she has starred in two movies, produced a makeup remover and published a book. 
Alyssa Edwards 
View this post on Instagram
Having competed for the Drag Race crown twice, in season 5 and All-Stars 2, Alyssa Edwards has spurned many iconic lines and habits that fans still quote today. However, despite never winning a Drag Race series, fans and fellow queens have the utmost respect for her. Since competing in 2013 and 2016, Alyssa has been running a highly successful dance company called 'Beyond Belief', for which she does the choreography.
Aquaria 
View this post on Instagram
Aquaria defied all odds when she won Season 10 of Drag Race since she had gained quite a following online before appearing on the show, and people believed she was all about the looks without the talent. However, she became one of the youngest winners, only 22, when she was crowned. Also, she is the daughter of a previous Drag Show winner, Sharon Needles. Besides Drag Race, Aquaria has tried her hand at singing, acting and performing during the Werq the World Tour.
Violet Chachki 
View this post on Instagram
Violet Chachki took season 7 of Drag Race by storm in 2015, winning the crown despite initial disagreements between her and her fellow contestants. Violet excelled in fashion and performance challenges while on the show, which contributed to her following success with burlesque performances. On top of this, Violet has worked with such famous brands as Vogue, Prada and Moschino, released an original EP and appeared in the 2016 movie 'Queer Maxie.' 
Sasha Velour 
View this post on Instagram
Visual artist Sasha Velour won season 9 of Drag Race in 2017, although it was a rather bumpy ride getting there. After winning only two maxi challenges, it was Sasha's unique take on drag and stunning lip-sync during the Grand Finale that helped her cinch the season. When Drag Race ended, Sasha put together NightGowns, a drag revue that has recently released two independent films, and began a drag tour that will be coming to its conclusion in 2022. 
Plastique Tiara 
View this post on Instagram
Born and raised in Vietnam, Plastique Tiara finished 8th in season 11 of Drag Race despite being the most popular contestant on social media before the show's beginning. However, her popularity increased after appearing on the show in 2019, and she currently has over 2 million followers on Instagram alone. After being eliminated from the show, Plastique Tiara released a single called 'Irresistible' and aims to further her music career in the future.
Bob The Drag Queen
View this post on Instagram
Bob The Drag Queen was the winner of Drag Race's 8th season in 2016, much to the jubilation of many fans. With her popularity on Drag Race, Bob was offered multiple acting roles when the season finished, teaming up with famous companies including HBO, Netflix, and Sony Tristar to kick off her acting career. As well as this, Bob has two comedy specials available on iTunes and a podcast she hosts with her drag sister.
Shangela Laquifa Wadley 
View this post on Instagram
Shangela Laquifa Wadley is one of Drag Race's earliest queens and is the only contestant to compete on three separate seasons of the show (seasons 2, 3 and All-Stars 3). Despite this, she has never won a season. Shangela has made acting appearances in several TV shows and films, including A Star Is Born, and owns a drag management company. On top of this, she has written and released music and a stand-up comedy show. 
The Most Famous Drag Queens In Australia
With RuPaul's Drag Race Down Under airing for the first time last year and a second season confirmed in September, it's safe to say that Australia is embracing the show like its own. But do you know some of Australia's famous drag queens?
Dame Edna Everage 
View this post on Instagram
An alter ego of comedian Barry Humphries, Dame Edna Everage is one of Australia's most well-recognised characters. Edna began as a comedy act during the 1950s, satirising the idyllic Melbourne suburbia and the housewives happily living within it. The character became increasingly popular in the U.K. and North America and edged to fame through several movie appearances. Eventually, Dame Edna got her own chat show in Britain, which sealed her legacy among British viewers. 
Courtney Act 
View this post on Instagram
Courtney Act was one of the first musicians to present their gender fluidity openly, and their confidence helped them reach the semi-finals of Australian Idol in 2003. She appeared in season 6 of Drag Race, which enabled her to release her debut EP, Kaleidoscope. In 2017, Courtney embarked on a sold-out world tour encompassing her music and comedy that was received well by critics and fans, and she is now gearing up for a second tour next year[x]. 
Coco Jumbo
View this post on Instagram
Coco Jumbo's career began long before becoming a contestant on the first season of Rupaul's Drag Race Down Under in 2021. In 2017, she was voted Sydney's Favourite Drag Queen and DIVA Entertainer of the Year. Despite her public popularity, Coco Jumbo was eliminated in the show's third episode. However, she has used her fame from the back of the show to boost her social media presence and take part in the Drag Race Down Under tour[xi].
Charisma Belle
View this post on Instagram
As a performer that has appeared in every state throughout mainland Australia, Charisma Belle is a well-loved act nationwide. With a large number of awards under her belt, including Sydney's Favourite Drag Hostess and Show of the Year Masquerade of 2019, and a cast of celebrities with whom she has shared a stage, Charisma's personality lives up to her enigmatic name. Alongside her performance acts, Charisma supports a range of charities, aiming to help the LGBTQ+ community[xii].
The Most Followed Drag Queens of All Time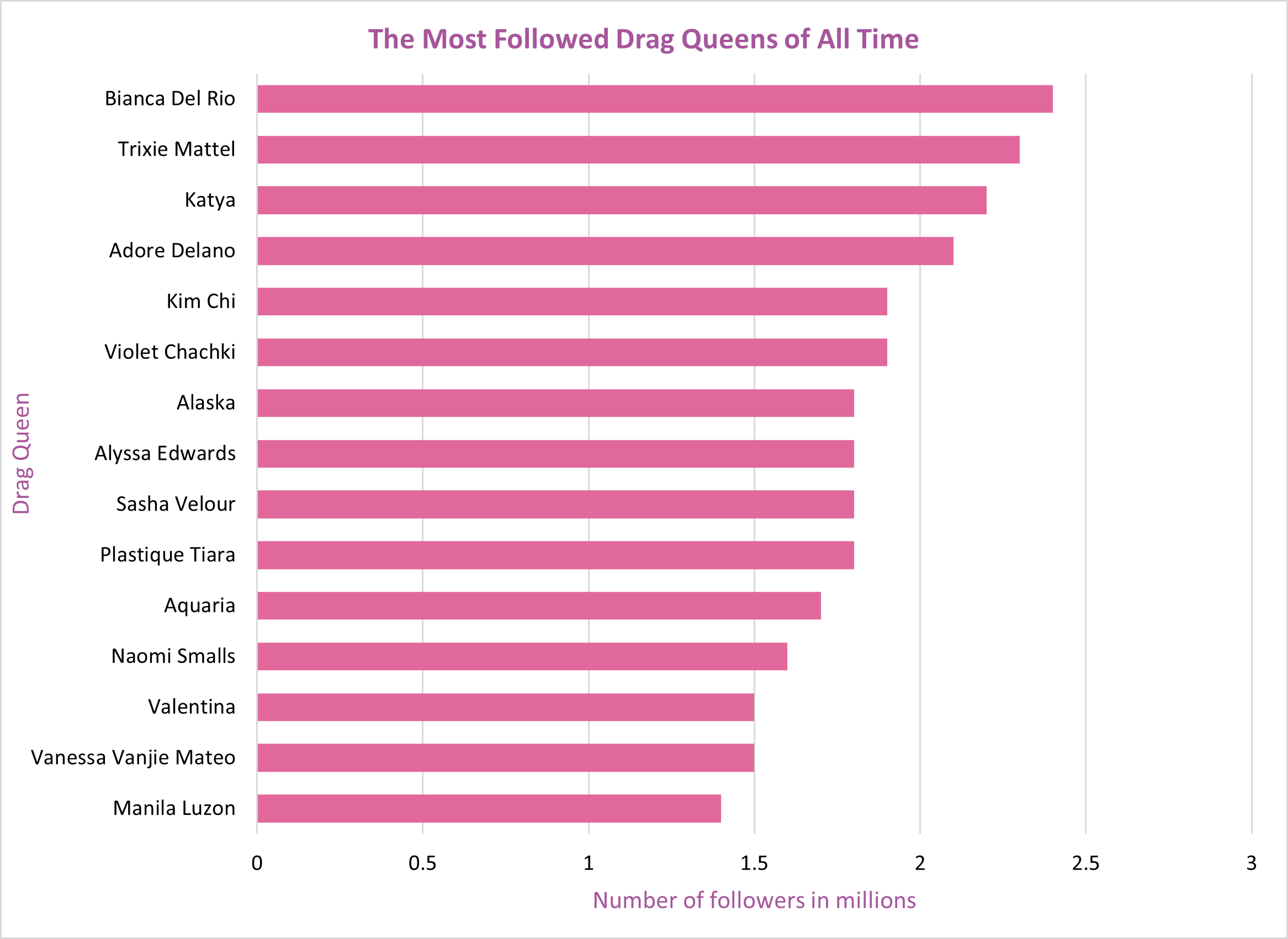 As RuPaul's Drag Race gears up for its most exciting season yet, we've taken a look back through some of the most memorable drag queens from the show and beyond. So who's your favourite out of these famous drag queens? 
If the charisma and enjoyment of the appearance of drag queens interests you, take a look at our online beauty courses. We can teach you everything you need to know about taking care of any clients needs, from facials to manicures, all taught around your schedule.
The History of Drag Queens

Sources
[i]  https://rupaulsdragrace.fandom.com/wiki/Trixie_Mattel
[ii] https://rupaulsdragrace.fandom.com/wiki/Bianca_Del_Rio
[iii] https://rupaulsdragrace.fandom.com/wiki/Alyssa_Edwards
[iv] https://rupaulsdragrace.fandom.com/wiki/Aquaria
[v] https://rupaulsdragrace.fandom.com/wiki/Violet_Chachki
[vi]  https://www.sashavelour.com/
[vii] https://thenetline.com/all-about-plastique-tiara/
[viii] https://www.bobthedragqueen.com/about
[ix] https://shangela.com/pages/bio
[x] http://courtneyact.com/about/
[xi] https://rupaulsdragrace.fandom.com/wiki/Coco_Jumbo#Filmography
[xii] https://www.sydneydragroyalty.com.au/charisma
[xiii]  https://www.statista.com/statistics/1010019/most-followers-instagram-drag-queen-global/