What Are Shellac Nails?
and how to do shellac nails at home

Shellac nails are increasingly popular, but what are shellac nails? Shellac refers to a specific types of manicure that uses a patented system of products. These products include:
a base coat

a colour coat

a top coat
The process requires a UV LED lamp that cures the colour onto the nails as opposed to simply drying them. This curing process is essential to the durability of a shellac manicure as the UV light activates the molecules in the products used for a shellac manicure and sets them to perfection. In addition, this process ensures the colour properly adheres to the nail's surface, so you won't need to put up with chipping and flaking nails that were so common with traditional manicures.
---
How to do shellac nails at home
While there is no doubt that the best manicure is one that you get done at a professional nail salon, you can still produce gorgeous shellac nails at home. Now you know what shellac nails are, the next question you need to understand is "how does shellac work?" and secondly, you need to follow a particular routine if you want to give yourself a salon-quality shellac manicure. 
Here's a step-by-step guide to doing shellac nails at home:
1. Prepare your nails
Shape your nails with a nail file and remove all traces of polish and other products. Wash your hands thoroughly when you're done, and give your nails a quick buffing. Your nails must be completely clean and free of previous products and oils, so it may be wise to give them a quick wipe with some rubbing alcohol to remove all traces of oils and other products. 
2. Gather your products and equipment
Get your UV LED lamp ready before you start applying polish. Line up the base coat, choose your colour polish and place the top coat on your work surface, all within easy reach. Make sure your work surface is stable, and you have enough room to move comfortably.
3. Start with the base coat
Apply a thin layer of the base coat on one hand. Cure it under the UV lamp for 60 seconds and repeat the process on your other hand. 
4. Apply the colour coat
Follow the same process as you did with the base coat—one hand at a time, followed by 60 seconds under the UV lamp. You should apply the colour coat twice for best results and cure it twice. 
5. Finish with a layer of top coat
This will seal the colour and make it last. The same process applies as for the previous coats. Apply to one hand at a time and cure for 60 seconds. 
How Long Does Shellac Last?
In everyday situations, your shellac manicure should last for 14 to 21 days[iv]. This is quite a robust manicure, and when the UV light has cured the colour, it is solid and durable. Keep in mind, though, that how long your shellac manicure lasts will depend on how much you put your hands through, so be mindful of how often you get your hands wet and how much you expose them to detergents and chemicals. 
The Pros And Cons Of Shellac Nail Polish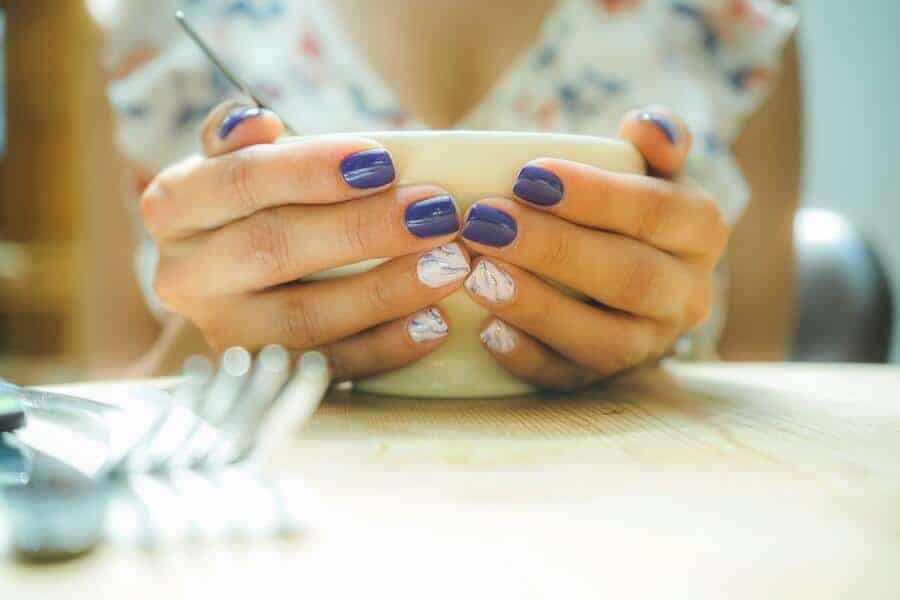 Like all manicures, shellac manicures also have their advantages and disadvantages. So before you rush out and get your nails done, it's worth looking into the pros and cons of this fabulous type of manicure.
The pros of a shellac manicure include:
Shellac polish is applied like regular nail polish, but it is dried (cured) like gel for long-lasting results.

A shellac manicure can save you time as you won't need to re-do your nails every week. A shellac manicure can last for 14 to 21 days, which means fewer visits to the nail technician.

Once the shellac polish has cured, it is completely dry, and you're ready to step out. This means you no longer need to worry about smudging your polish or ruining it right after a manicure. 

The finished result looks smoother and less clunky than traditional polish or acrylic nails. 

You can have shellac nails done anytime you want, even during pregnancy.
The cons of a shellac manicure include:
Curing with a UV lamp is necessary and frequent exposure can be harmful over long periods. 

It isn't good for those who have weak nail beds. 

Removal with an acetone wrap can be damaging to your nails. 

The new growth is clearly visible along the cuticle line when your nails grow.

Your nails and hands must be well-nourished and hydrated before a shellac manicure. You must maintain healthy nails and cuticles for strong, healthy nails. 

You should consider having shellac manicures removed by a professional to prevent damaging your nails.

Your choices for shellac nail colours are not as varied as with gel or acrylic nails.
How To Make Shellac Nails Last Longer?
Regular visits to a nail technician can add up to a pretty penny, and they can be a time-consuming enterprise, so you want your shellac nails to last as long as possible. Also, keep in mind that if you are engaged in a day full of cleaning, your manicure will still look fabulous as long as you incorporate a regular maintenance routine[vi]. This routine should include the following steps:
Protect your manicure – Gloves for cleaning and gardening serve a purpose, and that is to protect your hands while you work. If you plan on gardening, you should be wearing gardening gloves anyway to prevent your hands from being scratched and poked from thorns, twigs and other hidden sharp objects in the soil. The same applies when you're cleaning. Although mild cleaning won't affect your shellac manicure, handwashing dishes all day or handling harsh chemicals can affect the integrity of your shellac manicure. For example, bleach can cause chipping of the shellac edges or even make the coating start to separate from your nails. 
Nourish Your Hands – Always keep hand moisturizer within reach for when you expose your hands to water and the elements since they can dry out very quickly. By keeping your hands moisturized, you can extend the life of your shellac manicure. To ensure your hands stay nice and supple, apply a hand moisturizer at least once a day and keep the tube close and reapply as often as you need to. Pay close attention to your nails and gently massage your favourite hand cream into your cuticles to keep them strong and supple. 
Touch Up Weekly  – To keep your shellac manicure looking fresh and new, it helps to apply a top coat of clear nail polish in between manicures. It's enough to do this about once a week to keep your nails looking fresh. Most importantly, avoid picking off the shellac coating. When you see a bit of the shellac start to come away from the nail, it's tempting to pick it off. Please don't. When you peel away the shellac, you may be removing layers of your nails as well and this will inevitably weaken them.
The Beauty of Shellac Nails
Once you discover the wonders of the shellac manicure, you'll never go back to old-fashioned manicures again. If you are worried about achieving salon-quality results, you can always enrol in a nail technician course. This will ensure you have the knowledge and skills to give yourself and your family and friends the perfect shellac manicure. If you enjoy doing this for your inner circle, who knows – you may even turn your skills into a new career for yourself!
Sources
 [i] https://heavenlynailshilo.com/blog/reasons-why-you-should-get-a-manicure-done-by-a-professional/ 
[ii] https://www.harpersbazaar.com/beauty/nails/a29305247/shellac-nails-vs-gel-manicure/ 
[iii] https://www.byrdie.com/shellac-manicures-are-they-worth-the-hype-1327 
[iv] https://www.ry.com.au/ontrend/how-to-tips/how-to-make-your-shellac-manicure-last-longer/#:~:text=Your%20shellac%20nails%20should%20remain,are%20no%20match%20for%20shellac. 
[v] https://www.byrdie.com/diy-shellac-nails-at-home-5074743 
[vi] https://lesalon.com/blog/6-tips-to-long-lasting-shellac-nails/