Trends are ever changing, and nowhere is this more prevalent than in the beauty industry. From the natural looks of the early 20th century to the colour popping makeup of the '80s, beauty has seen some incredible (and some questionable) makeovers through the decades. Nowadays, beauty trends are a bit more blurred. It's not that there's nothing new coming into play, it's just that we've fallen in love with the looks of past eras. Although we now have eco-friendly beauty and crazes like glazed skin and facial jewels, there's something about past beauty looks that we simply can't let go of.
The incredible progress in beauty and makeup since the early 1900's made us wonder: just how much have beauty trends changed over the years? And how much of these once-loved routines do we still use today? To explore this idea, we've taken a look at some of the most popular celebrities and given each of them a makeover from a different decade. Not only can you discover makeup through the decades, but you can see what timeless trends you could incorporate into your modern day look – and which ones are best to avoid!
1900's
Makeup as we know it today wasn't incredibly popular in the beginning of the new century. In fact, the term 'makeup' referred to the cosmetics that stage actresses used to get into their characters. Women wanted to appear with their 'natural' face – however, cosmetics were still used to boost this look. Primarily, women would use pots of rouge to give their face natural colour. They would apply this rouge to their cheeks and forehead with a light stain on the lips to add a touch of colour.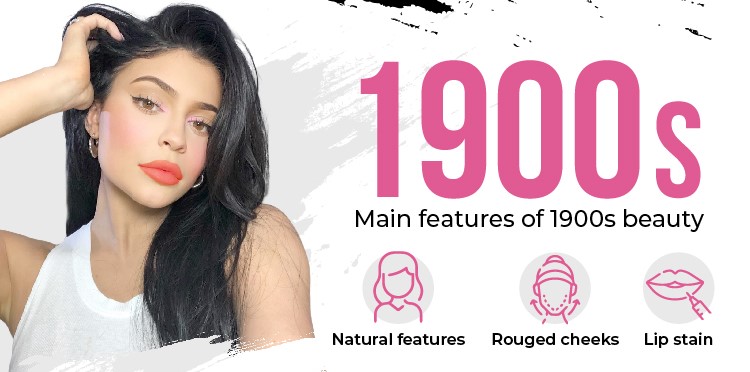 1910s
The 1910's saw the introduction of many beauty brands that we still love and use today, including Elizabeth Arden (started in 1910) and Maybelline (started in 1915). With the introduction of these iconic brands came a change up in the beauty trends. During this decade, women coveted pale, ivory skin over a tan, since tanned skin implied that they were working class. Besides this desire, makeup was rather simple, with only a dusting of powder, a light lip stain and plain eye shadow pastes being used.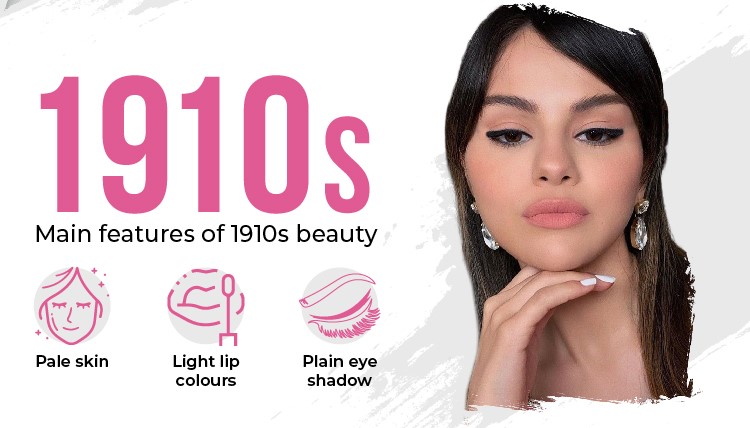 1920s
The 1920's were a decade of liberation for women, and naturally the beauty trends reflected this movement. As the flapper look grew in popularity, women took on more tomboy-esque shapes and hairstyles, yet took inspiration for their fashion and beauty ideals from the Hollywood stars. Most notably, the 1920's saw the introduction of the cupids bow lip style, usually with bright red lipstick. To create this iconic look, many women would invest in metal lip tracers for that perfect pout. On top of this, dark eye makeup was very popular, creating what is known as the 'vamp look'.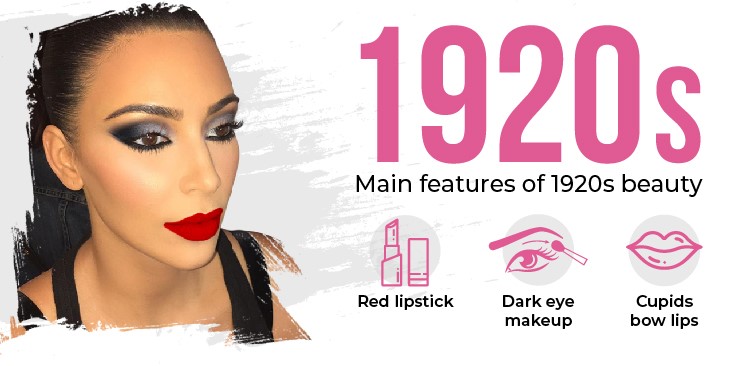 1930s
Those darker tones of the '20s were shed in the following decade, making way for much lighter and easily applied shades. With the invention of shiny lip glosses and cream eye shadows, makeup became more sophisticated. Contouring with blush became popular to achieve a more angular look, and raspberry and maroon lip glosses were well-loved. On top of this, one of the most iconic trends of the '30's is thin eyebrows, inspired by silent movie stars. Women would pluck their eyebrows off completely draw high, thin arches with an eyebrow pencil.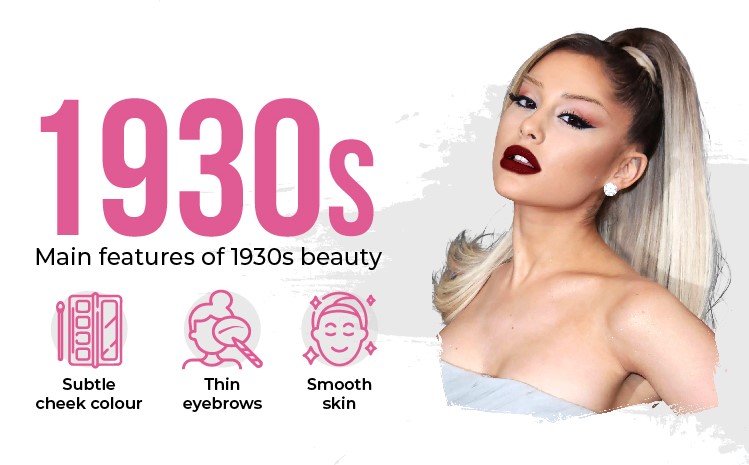 1940s
The midst of another world war did little to halt the beauty industry in the 1940s, and empowered women began to grasp their independence. Since they were busy working in manual labour careers, their beauty routines had to be accessible and quick. Thus, more natural looks were embraced. Powder compacts were popularised, and simple eye colours were every woman's go-to. Yet, bright red lips made their comeback and, since blusher was in short supply, rose lipstick shades were also used to add colour to the face.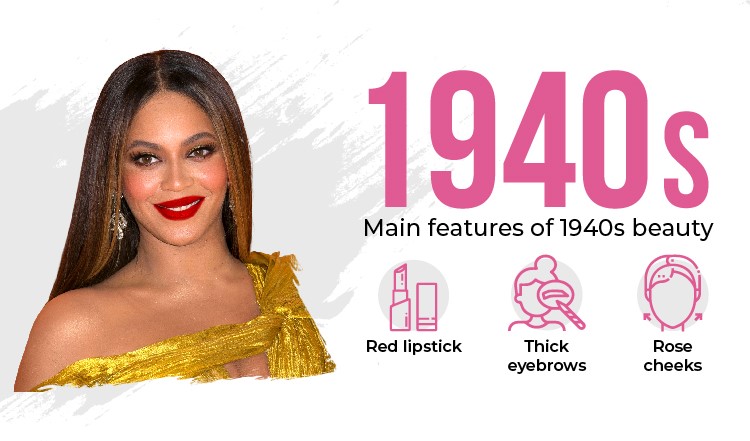 1950s
In the aftermath of the Second World War, progression was necessary, and with it came a boost in prosperity. Luxurious makeup products were introduced, and many famous beauty icons were there to model them. Grace Kelly, Marilyn Monroe and Ava Gardner all sported the most up to date beauty products, including liquid foundations, shimmering eye shadow, eyebrow stencils and eyelash curlers. Plus, winged eyeliner flew back into popularity, as did rosy cheeks and heavy mascara. As well as maintaining youthful looks, women now wanted to paint and decorate their faces with new, fun looks. Hence, the continued popularity of red lipstick!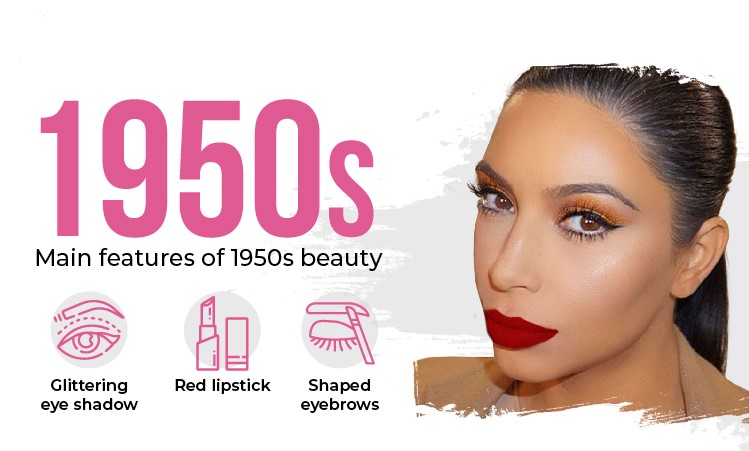 1960s
Like the rest of this exciting era, beauty in the 1960's was bold and fun. The '60s saw the growth of confidence in women in beauty as well as fashion, with brighter shaders and bold eyelashes becoming the in look. Led by iconic supermodel, Twiggy, women focused on daring eye looks, with false eyelashes and drawn-on lower lashes becoming all the rage. Yet, the boldness was subdued when it came to lip colours. The bright reds were placed with lighter pink and peach tones to emphasize the eyes, and foundation was light.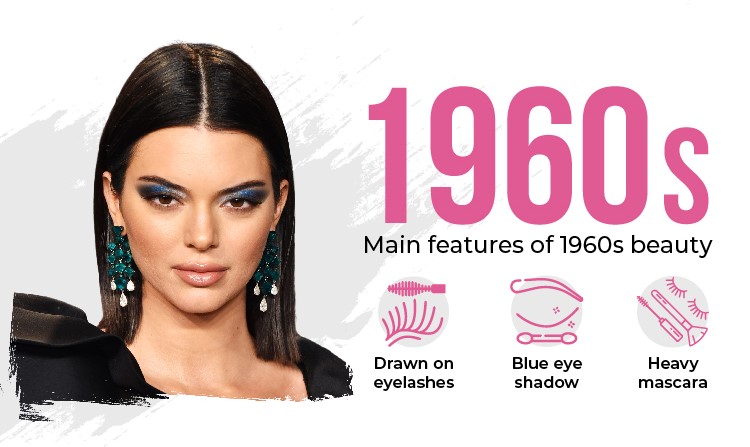 1970s
Although the 1970s was full of disco and glitter, the women's liberation movement was in full swing, so makeup was forced to take a back seat. Usually, '70s makeup was natural, employing bronzer and highlighter to create a healthy finish without being too obvious. Yet, some women embraced the disco look, going all out with shimmery pastel eye shadows and layers of lip gloss on top of their natural approach.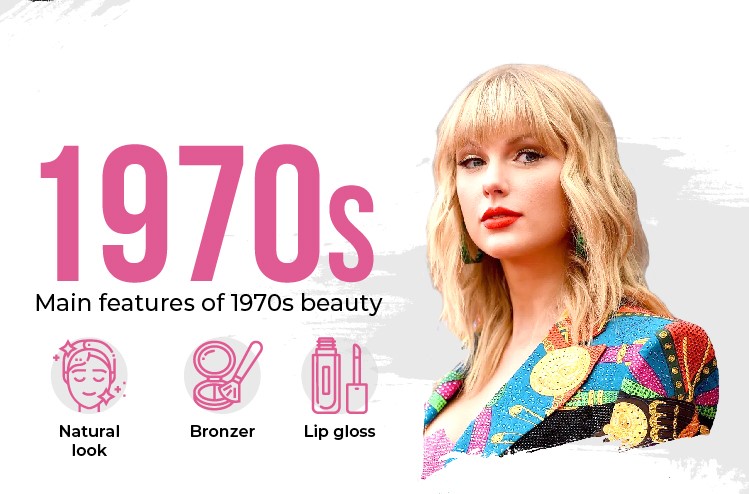 1980s
The 1980's strode away from it's predecessor as the economy began to boom, making way for bolder, brighter and colour-clashing makeup looks. Naturally, the beginning of MAC cosmetics, with their highly pigmented formulas, held a major influence over the beautifully coloured looks we now recognise. 80's icons from Madonna to Diana Ross pioneered the colourful looks that defined the era, including richly pigmented eye shadows, neon lipsticks and rouge blushers.   
1990s
As the vibrant '80s came to an end, women began to choose their own trends. From blue eyeshadows to crimped hair, brown lipstick to lip gloss, thin eyebrows to glitter, the '90s saw a mix of old favourite trends come back in style. Yet, as pop culture advanced, a more grunge style became popular, with rugged eyeliner and visible lip liner also spotted in the '90s.