How To Do French Nails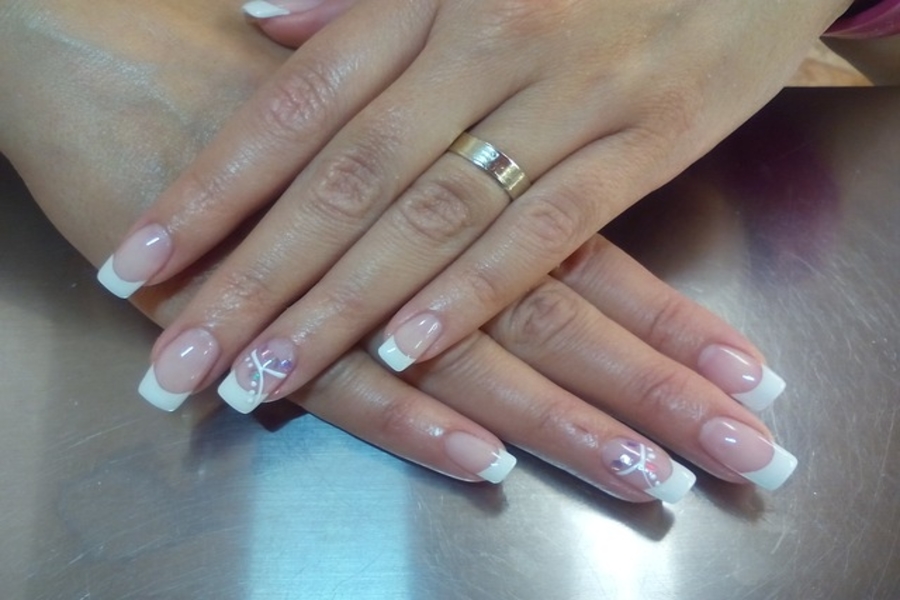 A French manicure remains one of the most popular types of manicure worldwide, with its subtle elegance and sophistication topping off any look. Although Hollywood stars first sported the look in the 1930s, the French manicure as we know it today was coined in the 1970s, and the trend has only gained momentum since then[i]. But, whether you prefer the classic nude French manicure or are willing to test the limits with dazzling pops of colour, you can skip out on a salon visit for your next manicure and give this never-ending trend a shot in the comfort of your own home. Although quality nail technician skills would be beneficial, a D.I.Y French manicure is far from impossible. Here's how to do French nails at home.
You Will Need: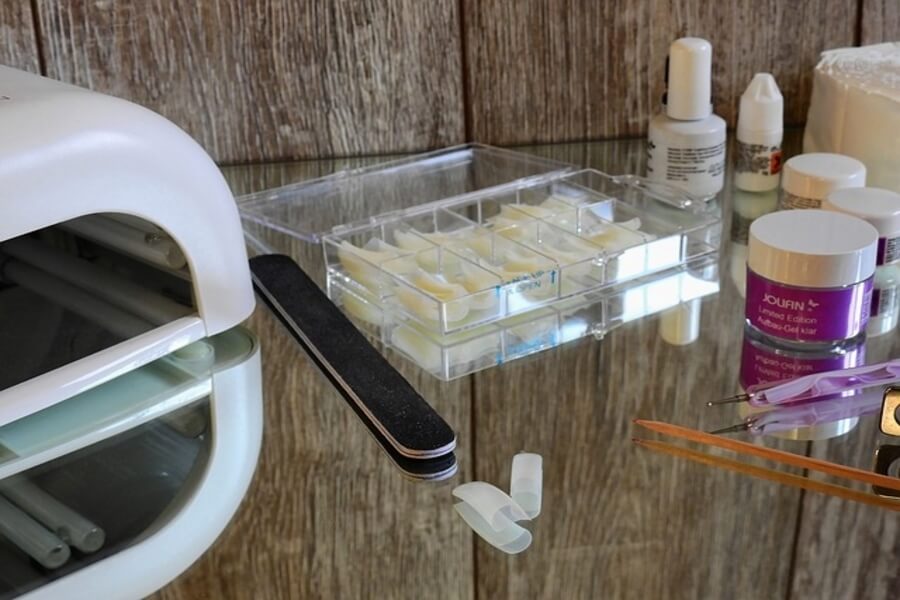 Acetone-free nail polish remover

Nail file

Nail buffer

Cuticle oil

Cuticle pusher

Hand cream

Base coat

Coloured polish (white is traditional)

Sheer pink polish

Top coat
1. Remove Old Polish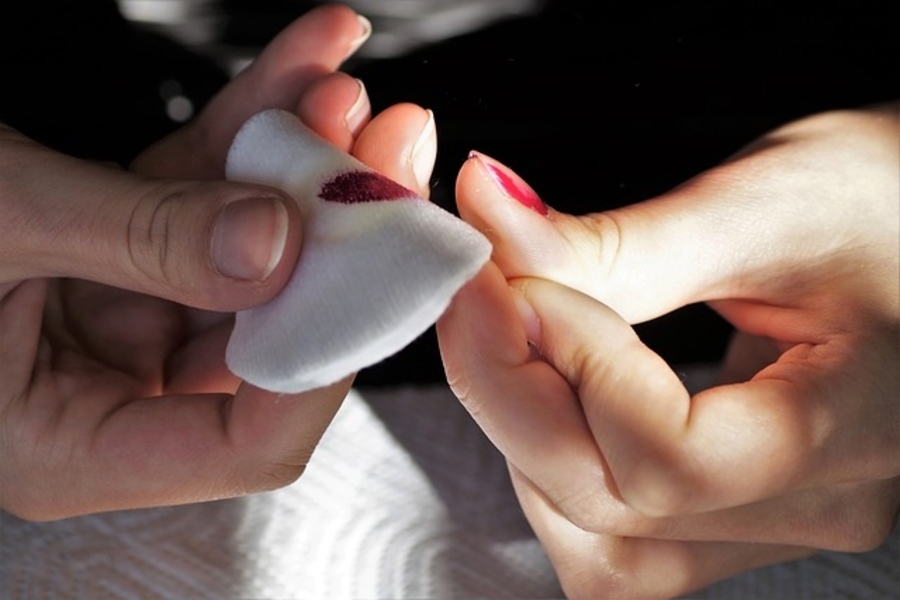 First, you need to clear your nails of any old polish. A classic French manicure should look clean and smooth, and a well-prepared nail is essential to getting that polished look. So wash your hands and remove all old nail polish – and we mean all! If necessary, you can use a cotton swab to remove any nail polish still lingering around the edges.
2. Shape Your Nails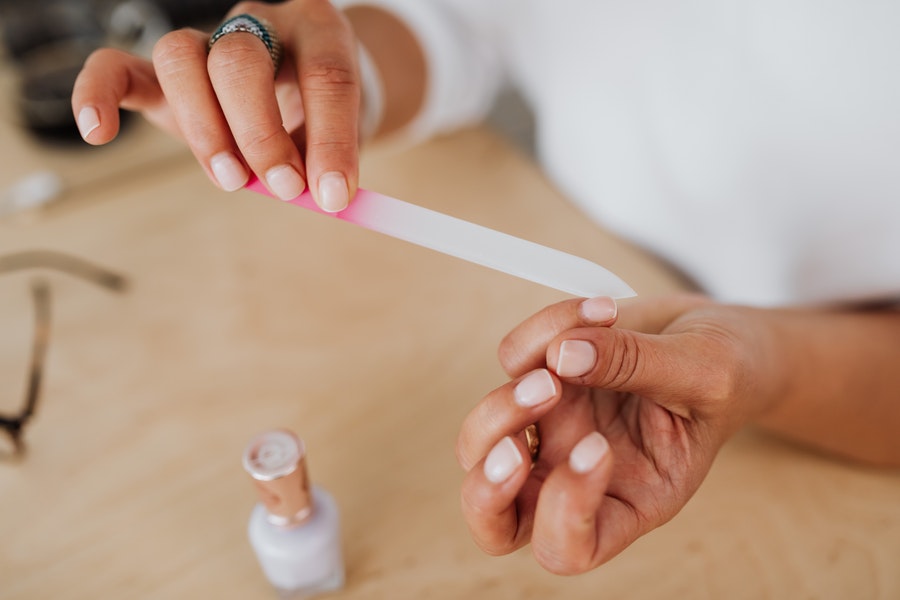 A French manicure is perfectly suited to any nail shape, so you can shape your nails however you like. However, this kind of manicure looks fantastic with short square, round or almond shapes[ii]. Whichever shape you choose to give your nails, ensure that the end result doesn't include broken edges. A French manicure requires symmetrical lines, and broken nail edges will be an eyesore.
3. Buff Your Nail Plate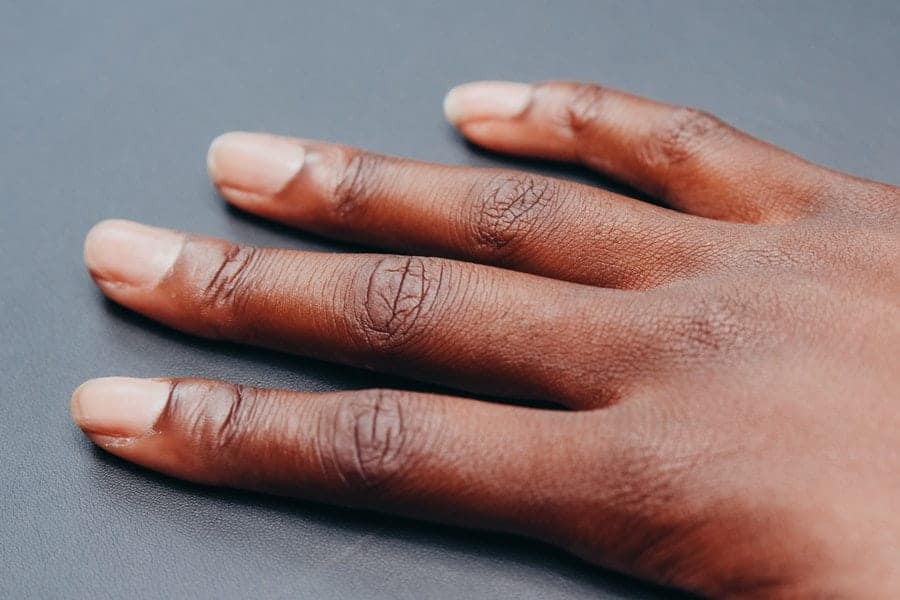 Contrary to popular belief, buffing your nails is only bad if done incorrectly. If you have gently buffed your nails, they will be able to hold on to polish better, whereas over smoothing with a low grit tool will badly affect your nail plate. Instead, use a high grit buffer and, with very light pressure, focus the device around the cuticle area.  
4. Prepare Your Cuticles and Hands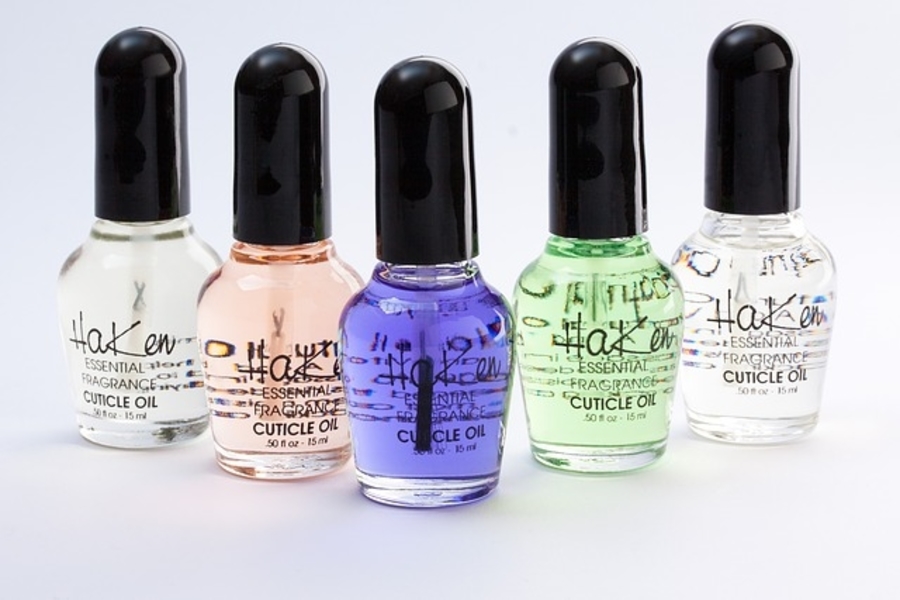 Before you can start applying polish, you can push back your cuticles with a specialist cuticle pusher to make your French nails last longer and prevent infection. Before doing so, make sure to soak your cuticles in oil, so the process is more straightforward. Then, exfoliate your hands and apply hand cream, paying attention to the nails too.
5. Apply Your Base Coat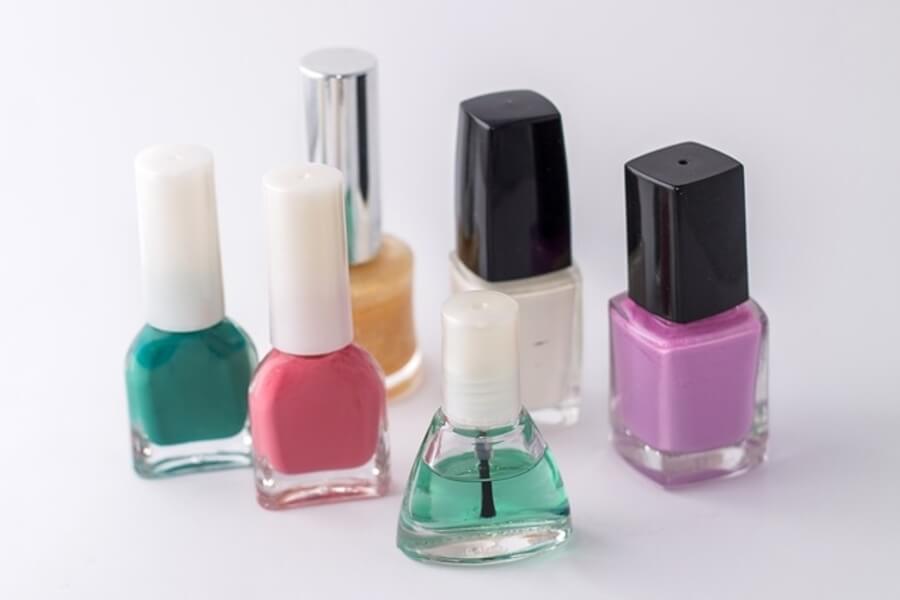 Finally, you can start painting! Begin with a thin layer of a good quality base coat. Often, a high-quality base coat is the reason salon manicures are much more long-lasting than an at-home manicure. Not only does a base coat help the polish stick better, but it also protects your nails, gives them an even texture, and prevents yellowing and peeling.
Find out how to properly look after your nails.
6. Paint Your Nail Tips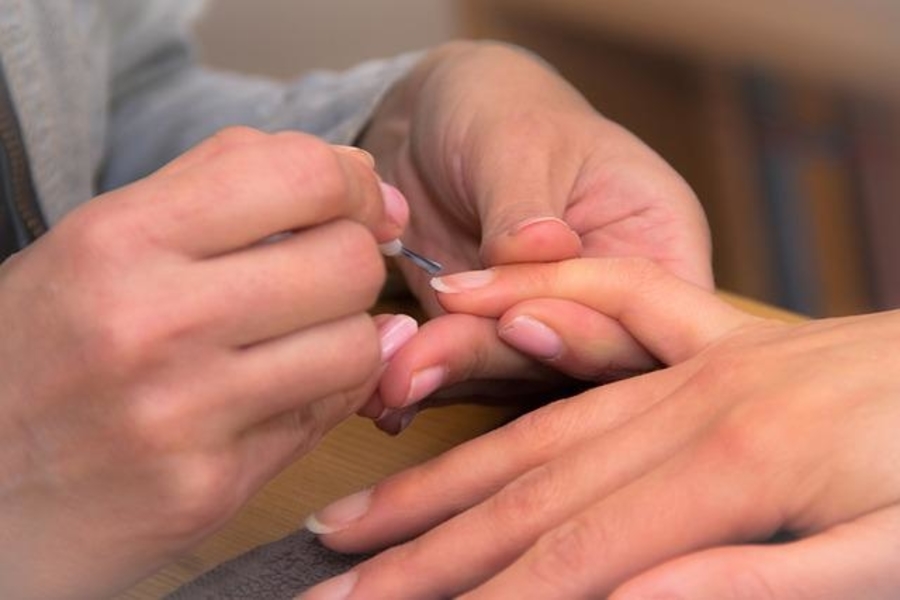 The iconic element of French nails is the strip along the tip of the nail. Although the classic colour is white, you can complete the look with any colour you'd like. Whether you paint a straight or curved strip is down to you and the shape of your nail. However, a curve along your natural nail will help elongate your nails and fingers.
Use a fine brush to draw a line from the points of growth on both the right and left sides of your nail towards the free edge. Join these lines at the tip, following the natural shape of your nail.
7. Add A Sheer Pink Shade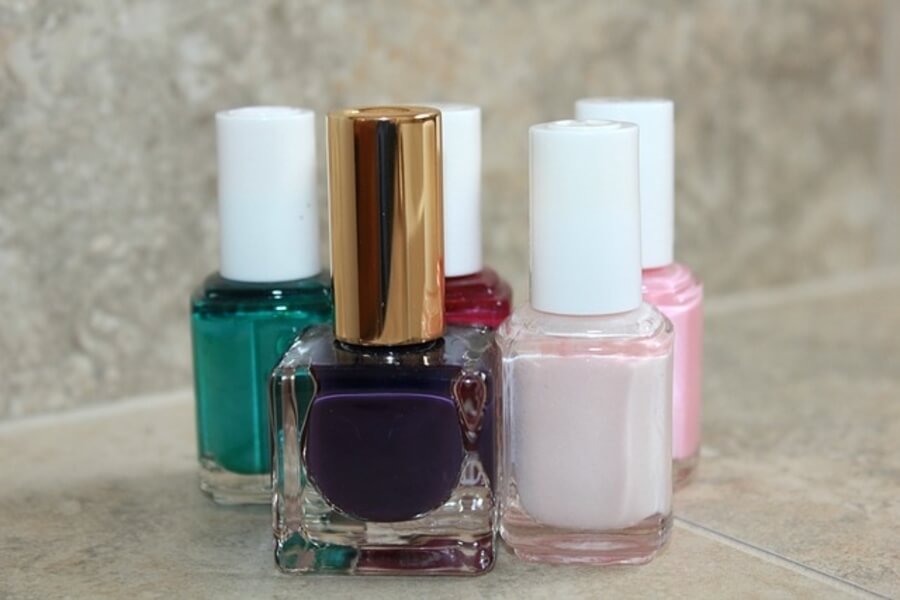 No matter the colours you use for your manicure, adding a translucent pink will make the result look much cleaner. A sheer, neutral shade will hide any imperfections or discolouration and make your nails look sleeker. Apply a thin coat of sheer pink across your whole nail to top off the look.
8. Apply A Top Coat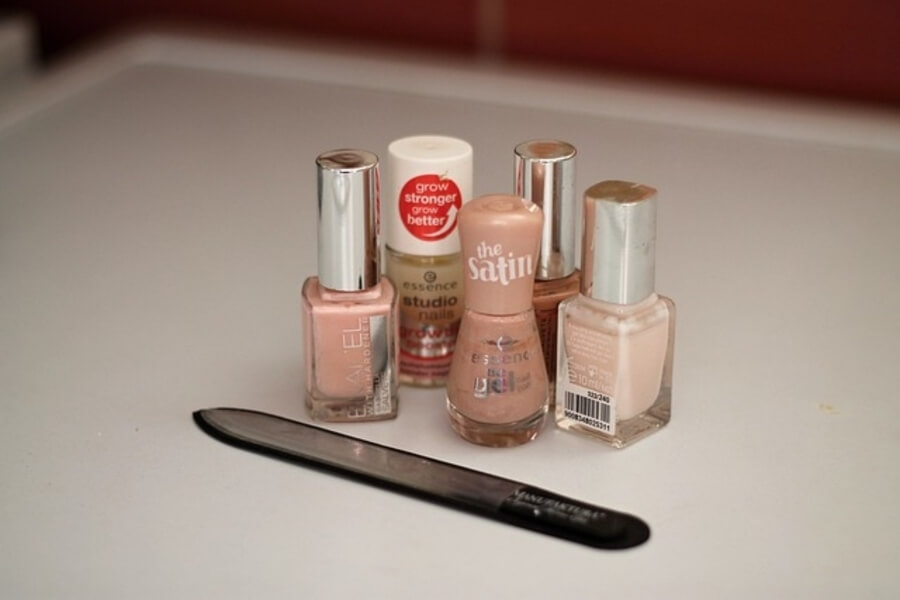 Before applying your top coat, make sure to clean up any stray polish around the nail bed so your manicure looks clean. Finally, you can use a top coat to ensure your hard work lasts. A high-quality top coat will seal your manicure and ensure the polish will last. To make your manicure last even longer, you should reapply the top coat every two to three days[iii].  
How To Do French Nails At Home
Knowing how to do French nails at home is a great self-care activity and can save you plenty of trips to the salon. Whether you choose to keep it classic or experiment with your colours, this step-by-step guide will see you through every French manicure you put your hands to.
If you'd like to learn more about how to do French nails as well as various other manicures, consider our nail technician courses. We'll teach you how to do your favourite nail looks and how to take the best care of your nails in between.  
How do you create unique French nails at home? Let us know.
Sources
  [i] https://www.whowhatwear.co.uk/french-manicure-history
[ii] https://www.thetrendspotter.net/french-tip-nails/
[iii] https://www.lorealparisusa.com/beauty-magazine/beauty-tips/beauty-trends/how-to-make-nail-polish-last-longer.aspx