How To Become A Massage Therapist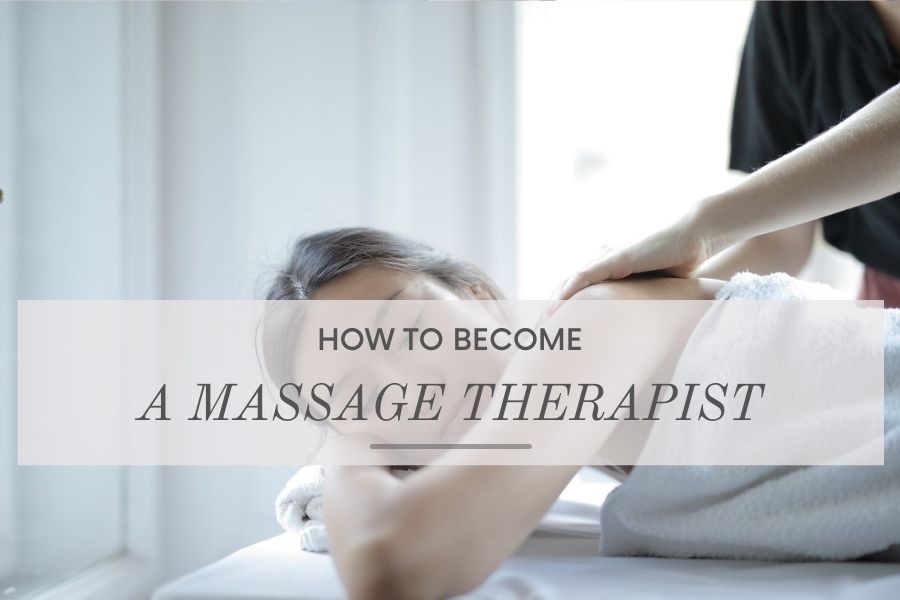 Massage therapy is an extremely rewarding career that is perfect for women and men who are social, love to help others, and have an interest in therapeutic beauty. It is also the largest complementary medicine profession in Australia[i].
You may have heard massage therapists being called a 'masseuse' or a 'masseur' before; they are all different titles for the same job. Being a massage therapist is hard work, but it can be gratifying. There is never a shortage of people needing a massage for various reasons, so you're sure to never run out of clients, and it can be a very successful career path if you play your cards right.
Find out everything you need to know about becoming a massage therapist
Want a broader career in beauty? Read our guide on becoming a beauty therapist here.
---
What is a massage therapist?
A massage therapist is someone who massages people for several medical/health, fitness and rehabilitation reasons. They are specially trained to manipulate muscular and connective tissues in various ways to relieve tension, promote well-being, and help with muscle tissue recovery.
There are currently an estimated 15,100 massage therapists in Australia. This number is up from 11,800 recorded in 2015.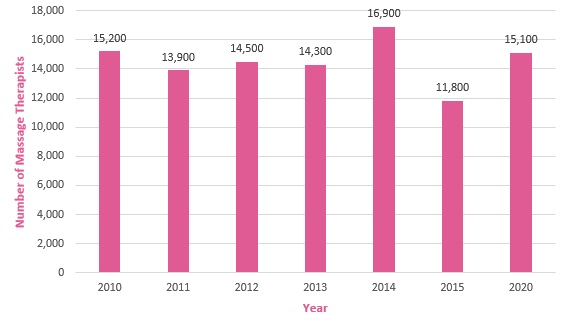 Data from Statista
It's a very popular career dominated by women. According to PayScale, currently, 85.1% of massage therapists are female, and 14.9% are male.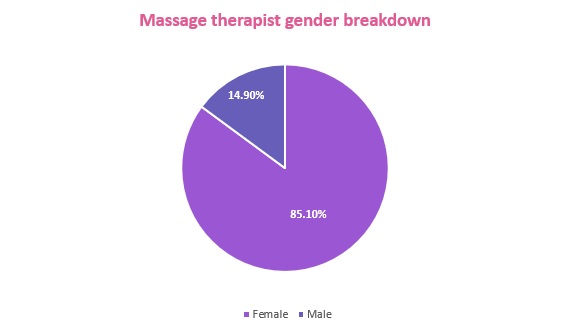 Massage therapists can use their skills as a supplementary or whole treatment for a range of conditions, including[ii]:
Sports injuries
Pains and aches
Stress
Headaches
Mental illness like anxiety and depression
Pregnant women and people needing rehabilitation from certain types of surgery can also benefit from massage therapy.
---
Types of massage therapy 
There are different types of massage therapy specializations that you can focus on through training. It's essential to understand the various forms of massage before choosing a specialization. The most common forms of massage therapy include:
Relaxation massage
Relaxation massage is the form of massage most people will be familiar with. As the name suggests, it aims to relax, destress and calm the recipient – in both body and mind[iii].
Benefits: pain free | settles nervous system | encourages blood flow | stimulates lymphatics
Remedial massage
Remedial massage is often mistaken as being the same as relaxation massage -but rather than focusing on destressing, it focuses on relieving muscle tension, headaches, aches and pains.
Benefits: stimulates blood flow | encourages blood flow | settles pain | relaxes muscle tension and the nervous system
Sports massage
Sports massage tackles specific places in the body that are experiencing aches, pain and strains. They are not only for athletes but are also for people who overwork and cause themselves physical strain. They can help to heal injuries as well as supplement ongoing physiotherapy.
Benefits: helps with flexibility | can prevent injury | relieves pain in overused muscles | reduces fatigue
Pregnancy/prenatal massage
Prenatal massage is a brilliant way for pregnant women to relieve discomfort, cramps and headaches that occur during pregnancy.
Benefit: aids better sleep | helps reduce anxiety | relieves joint pains and muscle aches
Other types of massage are:
Deep tissue massage
Aromatherapy massage
Craniosacral therapy
Reflexology
Acupressure
---
Salary
See the average salaries for massage therapists in Australia below[iv].
The average annual salary for a massage therapist in Australia is $53,778k
The base, or entry level, salary is $38k
The top level of the salary scale is $64k
The average hourly salary is $45.90
This can change based on location, experience, number of hours worked and other factors.
Want to find out how much Australia spends on beauty? Click here.
---
Day-to-day role
Every day brings new clients with new issues, so massage therapists need to be on the ball to understand what each client's different needs are and how they can help them. The daily duties of a massage therapist include, but aren't limited to[v]:
Listening to clients and assessing what their issues are and what they need
Providing therapeutic massage for rehabilitation, relaxation, and maintenance purposes
Manipulating muscles and soft tissues
Advising clients on how they can improve their soft tissue and muscle conditions outside of their massage therapy appointments – changes to posture, reviewing sports techniques, lifestyle changes etc.
Depending on how much responsibility a massage therapist has and whether they work in a clinic or for themselves, they may also have to:
Answer phones/respond to emails to book appointments
Clean workstations
Make beverages for clients who are waiting
Continue learning of massage techniques and updating qualifications/licenses where needed
Open and close the business each day
---
How to become a massage therapist
There are many routes to becoming a qualified and experienced massage therapist, and everyone finds their own path. Below, we will advise you on the best ways to gain experience and the skills and education you will need to succeed at massage therapy.
Personal skills
Having a personality and personal skills suited to being a massage therapist will help you immensely. Before pursuing this career, you should make sure you:
Can communicate and listen
Have excellent interpersonal skills
Are physically fit
Have a good business management skillset
Are patient
Additional skills that will look great on your CV include:
A first aid certificate and training
Experience in beauty therapy
Experience working in a spa or salon
Knowledge of the human anatomy
Ability to work alone and within a team
Education
You might be wondering what education you need to become a massage therapist. Being qualified is essential for landing a job at a reputable company. You need to have a nationally recognized diploma and have completed a nationally recognized course to qualify for insurance, provide healthcare rebates to clients, and join associations within the industry, which will boost your employability.
Find a course at a local college or school or take an online massage course to start your learning journey. Once you have gained a base level of education you can complete extra, or post-graduate courses, for more specialist forms of massage therapy[vi].
Get experience
Experience is another valuable factor that will increase employability, so you should try to secure it sooner rather than later. Many massage therapy students will either complete work experience as a part of their course or try to get experience in place for when their studies are finished.
Calling local businesses is a great place to start in trying to find work experience. If you do a good enough job, they might employ you on a part-time or full-time basis.
---
Is a job in massage therapy worth it?
The answer is yes! If you are a physically fit, social person who loves to help others and make them feel better, massage therapy could be the perfect career for you.
As well as being an emotionally rewarding job, the massage therapy industry is growing at a fast rate and there is plenty of opportunity to grow and succeed – both personally and with your career.
Browse our full range of beauty courses today – click here.
---
References
Australian Natural Healthgroup, n.d. Massage Therapy Industry – Overview. [Online]
Available at: https://australiannaturalhealthgroup.com.au/massage-therapy-industry-overview/
[Accessed April 2021].
Discover Massage, n.d. Different massage types and their benefits. [Online]
Available at: https://www.discovermassage.com.au/blog/different-massage-types-benefits/
[Accessed April 2021].
MIMT, n.d. Everything you need to know anout becoming a message therapist. [Online]
Available at: https://www.beautycoursesonline.com.au/online/relaxation-massage-course/
[Accessed April 2021].
payscale, 2021. Average Massage Therapist Hourly Pay in Australia. [Online]
Available at: https://www.payscale.com/research/AU/Job=Massage_Therapist/Hourly_Rate
[Accessed April 2021].
Rayner, R., n.d. What is the difference between a relaxation massage and remedial massage?. [Online]
Available at: https://pottsvillephysio.com.au/difference-relaxation-massage-remedial-massage
[Accessed April 2021].
seek.com.au, 2021. Massage Therapist. [Online]
Available at: https://www.seek.com.au/career-advice/role/massage-therapist
[Accessed April 2021].
Sources
[i] https://australiannaturalhealthgroup.com.au/massage-therapy-industry-overview/
[ii] https://www.discovermassage.com.au/blog/different-massage-types-benefits/
[iii] https://pottsvillephysio.com.au/difference-relaxation-massage-remedial-massage
[iv] https://www.payscale.com/research/AU/Job=Massage_Therapist/Hourly_Rate
[v] https://www.seek.com.au/career-advice/role/massage-therapist
[vi] https://www.beautycoursesonline.com.au/online/relaxation-massage-course/