How To Become A Beauty Therapist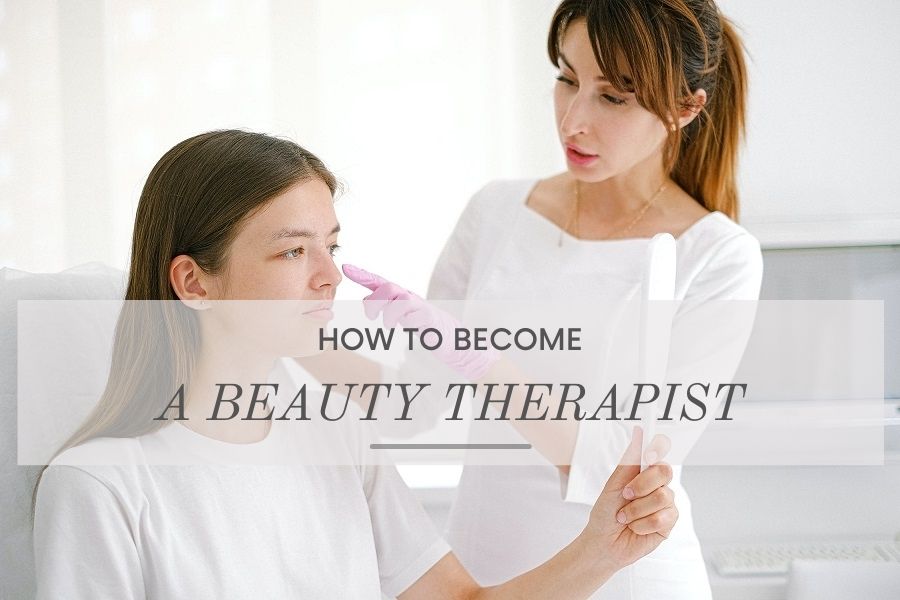 Beauty therapy is an umbrella term for several services within the beauty industry. It's a profession that keeps getting more and more popular as time goes on, with a massive projected growth of 19.7% over the next five years[i]. Data shows that there will be an estimated 50,700 beauty therapists in Australis by 2024, compared to 42,300 in 2019.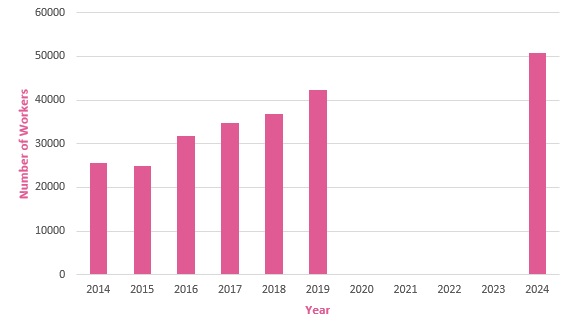 Data from Australian Government JobOutlook site – accessible here
Being a beauty therapist ties creativity, socializing and the rewarding feeling of a job well done into one neat package, making it the perfect career for confident social butterflies. If you're interested in becoming a beauty therapist but you're a bit lost on how to get there, this guide will give you the direction you need to achieve your goals.
Find out everything you need to know about becoming a beauty therapist
---
What is a beauty therapist?
A beauty therapist is someone who is knowledgeable in a range of beauty treatments that they carry out on clients faces and bodies. Beauty therapists can learn a number of treatments, but many choose to only specialize in a few select areas.
As well as being knowledgeable about how to carry our facial and body care treatments, they have to know how all of these treatments work down to a scientific level. Beauty therapists are well versed in anatomy, cosmetic chemistry and skin biology[ii]. This is how they know to recommend the best treatments for each individual client.
---
Daily Responsibilities
There's a wide spectrum of treatments that beauty therapist may be responsible for, so responsibilities can vary from person to person. However, when you become one you can expect to do the following on a daily basis:
Carry out treatments
Upsell new treatments or products
Recommending treatments, hairstyles, nail designs etc. that would suit your client
Cleaning and sanitizing workstation
Cleaning and sanitizing salon
Staying up to date with the latest treatment trends
Making drinks for customers
Opening and closing the salon
Your daily responsibilities will increase in number as you go further and further in your career. You should always be on the lookout for any other jobs you can do whilst you don't have a client in the salon; your boss will be sure to notice this.

---
Salary
According to PayScale, the average annual salary of a beauty therapist in Australis is $48,576. The lower end of the pay scale is around $30k, and the higher end is about $60k[iii].
A beauty therapist's salary will grow with time and experience and is dependent on how many treatments they provide. Of course, self-employed beauty therapists will set their own rates, so salary depends on how many clients they see each day.
Want to find out more? Take a look at the Highest Paying Jobs in the Beauty Industry
---
Types of beauty therapy
There are dozens of different beauty therapy treatments that you could learn and master. The most popular beauty therapist specializations include:
Nail Technicians – nail technicians do manicures, pedicures, nail extensions and can help with achieving healthier nails
Makeup Artists – makeup artists will apply makeup and advise on the best products for their clients
Lash & Brow Technicians – cover everything from shaping and tinting to brow lamination and lash extensions
Hair Stylists/Hairdressers – focus on cutting, styling, colouring and recommending new styles
Skin Therapists – rejuvenate dry, tired skin and suggest beneficial treatments or products
Hair Removal – specialize in hair removal through waxing and/or laser
Masseuses/Masseurs – have full knowledge of the human anatomy and massage techniques to relieve tension
Of course, you can pick and choose which treatments you want to learn.
---
Benefits of being a beauty therapist
There are infinite benefits of working as a beauty therapist, whether you work in a salon or in a freelance capacity. Beauty therapy is a career that is perfectly tuned to those who are imaginative and social, and is ideal for any extrovert.
The best part is that you have almost no boundaries to how much you can progress and are usually in control of how much you work, earn and any additional training you choose to take up outside of work hours.
Choosing to become a beauty therapist can open up so many doors and allow your personality to flourish in a fun, supportive and friendly environment that is centred on you succeeding as a professional.
---
How to become a beauty therapist
We've covered the basics of what a beauty therapist is, what they do and their potential salary. Now you're clued up on what would be expected from you as a beauty therapist, let's talk about the steps you need to take to become one.
Skip to
---
Personal Requirements
As well as needing the right training, beauty therapists need to have a certain set of personal traits which lend themselves to the job at hand. These traits are important for ensuring your clients know they are in good hands while carrying out treatments.
To succeed in beauty therapy, you should:
Not have allergies to any of the products you'll be using
Have an interest in helping people
Have good hand-eye co-ordination
Keep a neat appearance, make sure clothes, hair and nails are clean and tidy at all times
Be sensitive and tactful, especially when performing facial and body treatments
---
Education & certifications
There is no mandatory certification needed to become a beautician in Australia. Many treatments can be carried out without having specific qualifications, but training is highly recommended as it will make securing a job a lot easier.
According to Job Outlook, these are the percentages of top qualifications held by professionals in the beauty industry: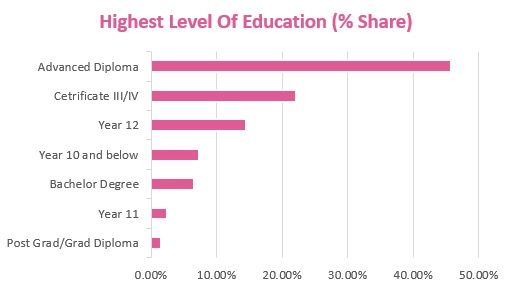 Data from Australian Government JobOutlook site – accessible here
If you're looking to work in a reputable salon, spa or even want to become a successful self-employed beauty therapist, getting qualifications from a professional body is necessary. It will open up the doors for more employment opportunities, and you can be completely confident in your abilities.
There are a range of online beauty therapy courses you can take that will fit in around your schedule, or you could attend a traditional beauty school.
If you want to earn whilst you learn, many salons offer apprenticeships or traineeships.
---
Skills
Skills needed depend on which discipline you choose, but in general a beauty therapist will need to be skilled in the following areas:
Excellent customer service and interpersonal skills
Communication skills
Listening skills
Patience
Dedication
Creativity
A passion for beauty
Good time keeping
Whether you have all of these skills or not, there are plenty of opportunities to grow and build them up! If you feel that you're weak in some areas, you should actively seek ways to improve them.
---
How to succeed
Success within the beauty therapy field is easy to achieve if you have the drive to do your best. Here are our top tips for success to give you a head start in the beauty game.
Train, train and train more – there is no limit to how much you can learn. Even when you've started working, there's no harm in topping up your training every now and again with an extra course or two. Even re-visiting past training materials can help.
Smash your social presence – we live in a world where your social presence can be the key to your success. Make a (positive!) name for yourself on social media. Platforms like Instagram, TikTok and Facebook are great for engaging with clients and other beauty therapists.
Get experience – if you're struggling to secure a job, you might just need to gain some experience. Offer to do some work for free at a salon or ask friends and family if you can practice your beauty discipline on them.
Stay up to date – don't let the ball drop on learning about new trends. Keep one eye on beauty influencers at all times to see what they're up to.
---
References
PayScale, 2021. Average Beauty Therapist Hourly Pay in Australia. [Online] Available at: https://www.payscale.com/research/AU/Job=Beauty_Therapist/Hourly_Rate [Accessed March 2021].
poshnailz.co.uk, 2019. WHAT IS BEAUTY THERAPY & WHAT DOES A BEAUTY THERAPIST DO?. [Online] Available at: https://poshnailz.co.uk/what-is-beauty-therapy/ [Accessed March 2021].
Seek, 2021. Beauty Therapist. [Online] Available at: https://www.seek.com.au/career-advice/role/beauty-therapist [Accessed March 2021].
Sources
[i] https://www.seek.com.au/career-advice/role/beauty-therapist
[ii] https://poshnailz.co.uk/what-is-beauty-therapy/
[iii] https://www.payscale.com/research/AU/Job=Beauty_Therapist/Hourly_Rate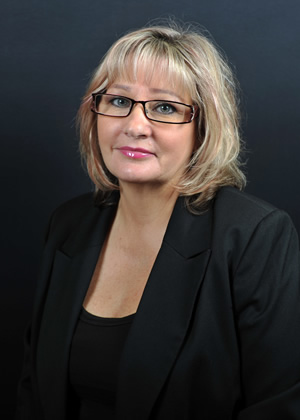 Karen Harrington started Beauty Courses Online in 2008 and has decades of experience in the beauty industry. Karen has owned multiple beauty salons, aswell as a conventional beauty school. Thousands of students have begun a career in the beauty industry from studying courses provided by Karen.