Understanding Your Face Shape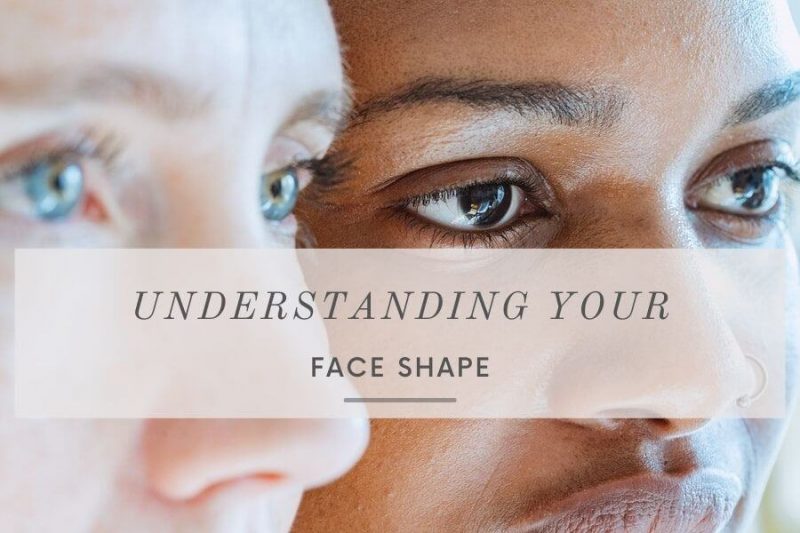 Let's get something out of the way first: there is no 'right' facial shape. The shape of your face can't define your personality or attractiveness, and since it's not something you can change, it's not worth spending time worrying about. That being said, understanding your face shape can help you enhance it. For example, knowing the hairstyles and make-up techniques that will accentuate your face shape can help you know which parts to emphasise to make it shine and help you choose the most flattering haircut. We've put together some of the most common face shapes and how best to work with them so your beautiful face can truly take centre stage.
---
What Is My Face Shape?
To determine your face shape, start by measuring:
The length of the face from hairline to the bottom of the jawline
The width of the forehead at the widest point
The width across the cheekbones at the widest point
The width across the jawline at the widest point
Using these measurements, you can figure out what facial shape you have.
Round – Face length is nearly identical to cheekbones, with jawline and forehead measurements slightly smaller, curved shape
Diamond – Face length longest measurement, cheekbones widest part of face, narrower forehead and jawline
Heart – Face length, cheekbones, forehead similar width, narrower jawline
Oval – Face length around 50% longer than the width of cheekbones, with forehead slightly narrower and jawline curved
Square – Face length, forehead, cheekbones and jawline similar width, but with straight angles
Rectangle – Longer face length with a wide forehead, thinner cheekbones and a square-shaped jaw
---
The Different Face Shapes
There are many different face shapes, and since some are pretty similar, it can be hard to pinpoint which one you have. Also, there can be merges of different shapes, so if you're unsure, test out some of these different looks and see what you like best. These are some of the common face shapes and the best hairstyles and make-up techniques that will flatter them.
Heart-Shaped Face
A heart-shaped face is a beautiful look with a large forehead, slender jawline, and prominent cheekbones. They share many similarities with round face shapes, only with a broader forehead and a slim jawline. Celebrities who have this face shape include Reese Witherspoon, Scarlett Johansson and Eva Longoria-Parker.
Make-Up Tips
For a heart-shaped face, softening the bulkier forehead and accentuating the prominent cheekbones will balance the face and give it a softer look. To achieve this, try:
Adding highlighter to the highest point of the cheekbones, nose bridge, and underneath the brow bone.
Applying bronzer or contour to the top of the forehead and blending it down towards the temples and beneath the cheekbones.
Brushing a rosy blush onto two fingers away from the nose, sweep it across the apples of the cheeks, then blend down.
Using bright lip colours and glosses to draw attention to the lips.
Trying lighter eye make-up colours, like nudes and soft pinks, to highlight the eyes.
Hairstyle Tips
To flatter a heart-shaped face, you'll want to balance out the forehead and flatter the high cheekbones – think bangs! Some good hairstyle ideas for this include:
A long, side-swept fringe with your favourite hairstyle
Side-parted shoulder length pixie cut
A long bob with a centre-parted fringe
---
Round Face
A very youthful-looking shape, a round face tends to be very symmetrical with a rounded jawline and chin. In addition, a round face shape is often blessed with gently contoured features that provide that envious ever-young look with no apparent angles or edges. Celebrities with a round face shape include Mila Kunis, Chrissy Teigen and Drew Barrymore.
Make-Up Tips
For a round face, enhancing the cheekbones, jawline and temple to create structure, add length, and balance the face emphasises that youthful look. You could:
Apply bronzer or contour to the outer edges of the face and under the cheekbones.
Add highlighting powder to the centre of the forehead, chin, high up on the cheekbones and bridge of the nose
Blend contour from the back of the ear to the centre of the cheek
Apply a small amount of light blush directly on the apple of the cheeks and blend outwards
Long, straight eyebrows with an angular arch
Hairstyle Tips
To accentuate a round face, you'll want to focus the volume on the crown of the head for a flattering finish. To do this, some good styles would be:
Longish bob with centre parting
Short, choppy pixie cuts
Long layered cuts
---
Square Face
With a sharp, angular jawline and more prominent features than a round shape, a square face has that youthful appearance just with a dash of maturity. In addition, minimal curves and a good symmetry mean that a square face is extremely fun to style. Examples of celebrities with this face shape are Billie Piper, Kelly Osborne and Sandra Bullock.
Make-Up Tips
You can easily soften the harder angles of a square face if desired, but this shape allows a lot of fun with the rest of the face. You could try:
Using a fluffy brush to contour around the temples and jaw, brushing upwards.
Alternatively, applying a little blush or bronzer to the jawline will also soften the edges.
Applying blush to the hollows of the cheeks and blending upwards.
Bold lip colours and eye looks – smoky eyes look beautiful on a square face.
Hairstyle Tips
Side-partings are well suited to this shape, with layers that will draw attention away from the sharp angles and offset the squareness of the face. To achieve this, try:
A short, layered bob (or shoulder-length lob) with a side-parted fringe
A longer pixie cut with a tousled finish
Any side-parted styles because this will flatter your shape
---
Oval Face
Those with an oval face should count themselves very lucky. Due to its well-balanced appearance, an oval face shape suits many different hairstyles and make-up looks and can be easily tailored to any look. Celebrities with an oval face include Beyonce, Cameron Diaz and Julia Roberts.
Make-Up Tips
Because an oval face shape is one of the most balanced, there isn't much that needs to be emphasised or played down. However, some subtle additions that will flatter your face are:
For longer faces, applying a light blush along the hairline, jawline and around the ears and the cheeks will harmonise the face.
Lightly brushing bronzer or highlighter across the forehead, bottoms of cheekbones and apples of the cheeks.
Applying highlighter to the high points of the face, like the temples, brow bone, bridge of the nose, Cupid's bow and chin.
Adding a light dust of blush from the temples down to the apples of the cheeks.
Hairstyle Tips
Since oval faces are almost entirely harmonious, there aren't really any hairstyles that you can't pull off.
A slicked back pixie cut
A long, curly shag cut
A short, layered bob
---
Rectangle Face
A hybrid of oval and square shapes, a rectangular face is long and angular with a square-shaped jaw. This face shape also usually features a higher forehead. Celebrities with this face shape include Meryl Streep, Courtney Cox and Kim Kardashian.
Make-Up Tips
With similar angles as a square shape, the rectangular face calls for softened edges and bold looks. Some good ideas are:
Apply blush or contour on the edges of the forehead, cheeks, and along the jawline.
Smoky eye looks, cat eyes, and bold colours to make the eyes pop and draw attention.
Make the eyebrows a little rounder to add some curve.
Fresh, rosy lip colours for a plumper appearance.
Hairstyle Tips
Without elongating the face, the right hairstyle can create a very flattering silhouette for a rectangular shape. Good hairstyles include:
Sleek styles, like chignons, pompadours or braids
Short, choppy bob
Layered cuts with rounded fringes
---
Diamond Face
The diamond face shape is the most desired yet the rarest, with a narrow forehead, small chin, and high cheekbones. Although it shares several features with a heart-shaped face, a diamond face is angular and narrow. Celebrities with a diamond face shape include Scarlett Johansson, Tyra Banks and Jennifer Lopez.
Make-Up Tips
Diamond face shapes can aim to add fullness and soften the angles to complement the curves of the face. Some ways to do this are by:
Applying a lighter shade of foundation to the forehead and jawline
Contouring the bottom of the chin
Focusing blush on the apples of the cheeks
Styling the brows upwards with a wide gap in the middle
Hairstyle Tips
For a diamond face, hairstyles that will add depth or accentuate the facial curves are perfect. Some good examples are:
A medium or long layered cut with a side parting
A chin-length bob
High ponytails will accentuate the prominent cheekbones
---
Experiment with your looks
Like we said at the beginning, knowing your facial shape isn't essential. But understanding how best to style it is pretty handy! These tips are by no means a fixed guide, though, so don't be afraid to experiment with your hair and make-up and make up your own mind. If you like it, then there's no doubt that it suits your face shape!
To learn more about the different face shapes and how to treat them, take a look at our facials course. With information on analysing the skin, applying treatments and different facial routines, our course will provide you with all you need to know about this trendy beauty sector and accelerate your earning power.