Australian Beauty Therapy Careers
The Australian beauty services industry is one of legend. In fact, Aussie women spend around 5% of their household income on beauty & grooming. That's an average of over $3,600pa. And, with most of our weather requiring hair-free legs and pedicured toes, it's no surprise.
But, what does Australia offer in Beauty careers? Is it an overabundance of beach-side salons and dreamy Byron Bay ambiance?
Well, I'm certain there are a few of those around. But, if you're looking for Australian careers, it's not quite as sleepy as coastal town boutiques and wharfside salons. We have a thriving, bustling industry filled to the brim with beauty therapists, service technicians, and beauty addicts. If you've never experienced it, Australia will offer you a chance to thrive in beauty.
Because of our radical love for beauty, we've developed careers to cater to everyone. From massage therapy right through to face feeling (or 'sensory science'…but come on. We're all gonna call it face feeling). If you're hoping to get into the Australian beauty industry, but have no idea which career is for you, we got you! We've scoured the internet for the best beauty jobs we can find in this sundrenched land.
Nail Technician
Nail technology is a thriving career choice. No matter the season, people are always willing to pay for a mani-pedi. And, that's just in the quiet months. What about awards season? Graduations? Christmas parties? Summer holidays? There's no end to the stream of nail-art tragics who traipse through salon doors. At least you know your job security will never be in question!
What do you do?
Nail technicians work to groom and maintain the shape, length, and presentation of finger and toenails. This is achieved by filing, buffing, polishing, painting and extending the nails to achieve the desired effect.
Where can you work?
Nail technicians have the benefit of being in high demand – everywhere! I don't know any woman who would choose to attend a formal event without getting her nails done. So, if you're not keen on a salon, mobile or home services are a clever alternative! But, if you're wanting more job security and easier marketing, a nail salon, spa, cruise ship, or hotel beauty services all offer nail services to their customers.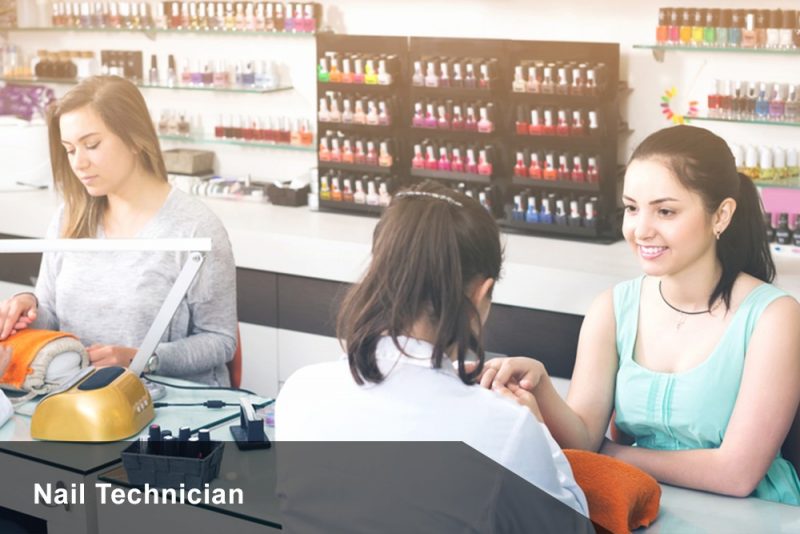 Blogger / Writer
Look, I know this may seem a little biased coming from someone writing a blog post, but beauty writing really is the best gig. If you've got a knack for penning your thoughts, but you're still keen on pursuing beauty, why not try to write about it?
The work is largely based online or at a computer. So, it is perfect for those of us who love a quiet and productive workday. If you want to get into beauty for customer service, however, it may not be the most fulfilling role for you.
What do you do?
From the comfort of your own home! Honestly, beauty writing is largely a freelancing career choice, which does have its pros and cons. You are completely in charge of your rates and fees, have full control over scheduling, day-to-day work and projects you take on, and you're able to work within your own parameters. However, as always with freelancing, it can take a while to begin earning real cash from your business.
But, if you're a little more ambitious, there's another side to beauty writing that may tickle your fancy: Beauty Editor. One of the most competitive careers, and we know why: With stacks of high quality product samples, event invitations, and VIP tickets to just about anywhere, you could be forgiven for wanting just a little bit of that. Oh, and the pay's not too bad either.
Where can you work?
Nail technicians have the benefit of being in high demand – everywhere! I don't know any woman who would choose to attend a formal event without getting her nails done. So, if you're not keen on a salon, mobile or home services are a clever alternative! But, if you're wanting more job security and easier marketing, a nail salon, spa, cruise ship, or hotel beauty services all offer nail services to their customers.
Beauty Therapist
Beauty therapy is the obvious solution after completing your qualifications. And, it's a good solution. With an incredible range of movement within your career, you're bound to find excitement and fulfillment in your work. In fact, beauty therapists rate their job satisfaction at 80%. That's at least 80 reasons to consider this as your pathway into beauty.
What do you do?
Beauty therapy is an umbrella term used for a range of different services. In beauty school, you learn makeup artistry, nail technology, facial services, massage therapy, eyebrow and lash services, and wax hair removal. You can specialise in any of these fields, or work in a spa or salon to deliver all of these services concurrently.
Where can you work?
Beauty therapists are an essential part of our beauty services industry. They can work everywhere: in salons, spas, cruise ships, luxury aircrafts…or in a luxury resort. Perhaps in a B&B, or Villa. Or, maybe as an on-set beauty therapist for reality tv shows. Beauty services are needed no matter where we are, whether you seek the quiet life or city thrills.
And, if you're balancing a bustling family and all the commitments that come with it, beauty services are easily offered from home, or as a freelance beautician. The choice is yours!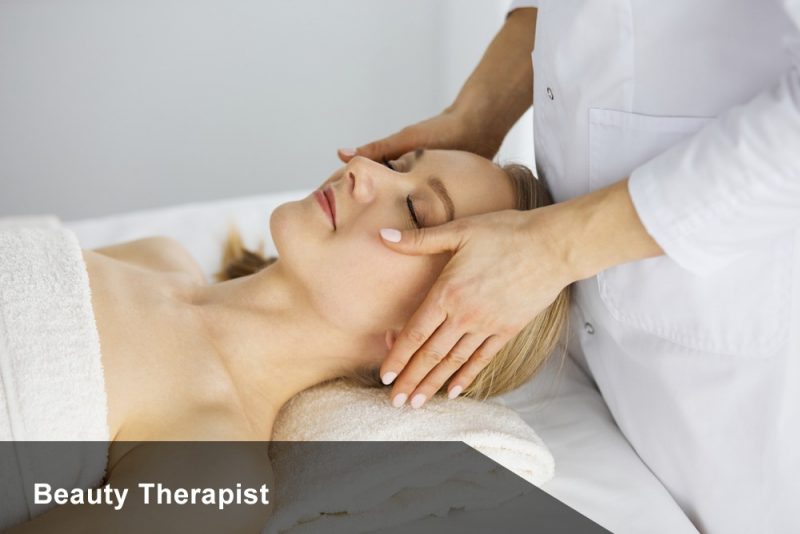 Saloon Manager
The salon manager is essential to the overall management and efficiency of the salon. They are responsible for the day to day running, stock management, financial records, employee management, and beauty services. Basically, a salon manager is a rock. The shelter through the storm. The mum friend.
Anyway, If you are in the beauty services industry, but are intrigued by the thought of running your own team, salon management may be right up your alley. Plus, a salon manager usually gets paid a little more for their efforts…which is always a good thing!
What do you do?
Salon management works to maintain the running of the salon and staff, while also giving beauty services to clients. This role is multifaceted and usually very busy, however it does allow you the flexibility of working with clients and individually.
Where can you work?
As you can imagine, salon managers work within salons, hotels and spas. However, management is vital to any institution offering beauty services. No matter where you work, the work environment will need management, whether in a single role or divided between employees.
Lash Technician
Lashes and brows are there to 'frame the face'. We've all heard it. If you want an effortlessly chic look that's seriously sans-the-effort, lash services are bound to be your best friend. Like…your very best friend. The one you're not quite sure you can introduce to your parents, but that only makes you want to hang out with them more.
Lash technicians are moving into a consistently growing beauty career. Whether you're hoping to bring in some extra cash as a lash-side hustle, or want to pursue it full time – lash services are serious about cash. Technicians can charge anywhere between $120-$300 for their services.
What do you do?
Lash technicians enhance the look of natural lashes with extensions, lifts, and perms. It's precise, finicky work and requires a thorough understanding of eye shapes, lash extension styles and applications.
Where can you work?
There are dedicated lash salons to cater towards lash enhancements, however lash technicians can also work from general beauty salons, or run their own home business.
But…is the money worth it?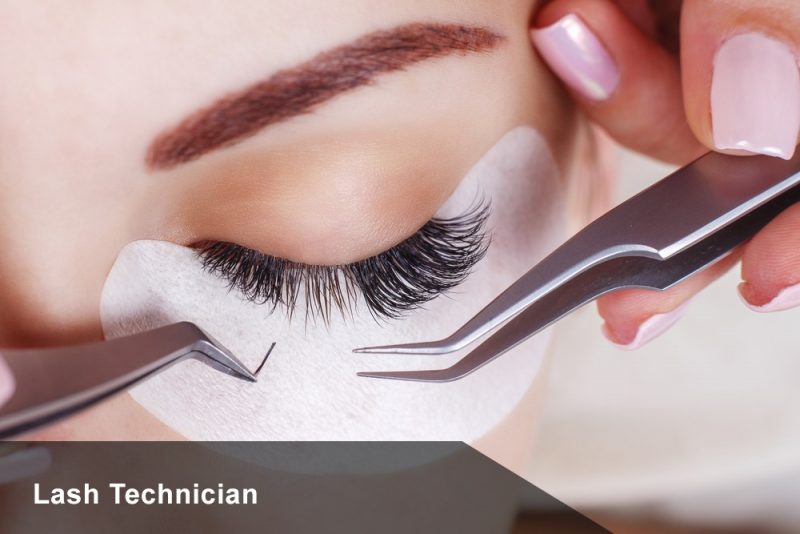 Beauty Educator
Beauty education is an extremely rewarding career path. Ask anyone, the joy of helping someone achieve their dreams is euphoric. Without beauty educators, we would be lost to the ravages of unskilled beauty therapists and no standardisation in hygiene, techniques, or processes.
What do you do?
Beauty educators will work either in classrooms, as a tutor, or in online lessons to help students grasp the fundamentals and advanced techniques in a wide range of beauty services.
Where can you work?
Depending on your experience and qualifications, you may work for accredited institutions of higher learning. However, beauty educators can also work in short courses, workshops, online tutelage and in-person 1-on-1 lessons.
Spray Tanning
If you lived in Australia as a teenager, you'll have an inkling of the popularity of spray tanning, especially leading up to the summer months. It is a foundation of our society. We need it.
So, if you plan to jump into the career of spray tanning, you'll know that you're in for a long and fruitful career! Job security is such a huge draw card in this high-in-demand job, which can have you earning buckets above the average salary.
What do you do?
Spray tanning is the process of applying a darker colour to the skin through spraying pigment onto the body. It involves a deep knowledge of skin undertones and colours, as well as the application of pigment and before or aftercare processes.
Where can you work?
There are many franchised spray tanning salons throughout the country, however you can also work as a freelancer. Self employed spray tanners can earn up to $600 per day!
Freelancer
We've touched on this a few times, but freelancing as a beauty therapist is one of the most lucrative ways to make a strong income. Your time, scheduling, rates, and products are all self-determined, meaning you're able to set the most effective work environment for your style. It is completely up to you, what you specialize in, how you operate, who you do (or do not) serve.
No matter your preference, freelancing can help create a comfortable career in your chosen field, without the typical 9-5.
What do you do?
This is the exciting thing! Freelancing works no matter what you choose. Beauty therapy, spray tanning, writing, specialised services – these can all be done under self-employment. And, as long as you're able to get your services out there, there is an audience for almost everything.
Where can you work?
Everywhere. From your home, as a mobile specialist, or from your own rented space.
But…is the money worth it?
Unfortunately, we don't have the data for an average salary for freelancers. However, if you are able to build up your client base, there's reason to believe that freelancing can earn you a much higher income than working in a salon.
There you go. With these incredible career opportunities for beauty addicts and tragics, you're bound to find something that suits you. Or, maybe you wanna carve out your own path? Maybe you're the one for blazing your own trail. Create your own beauty service, give your clients a new experience, shoot for the skies.
Who knows? You might strike gold.